Blueberry Lemon Crumbles
Holiday Cookie Face-Off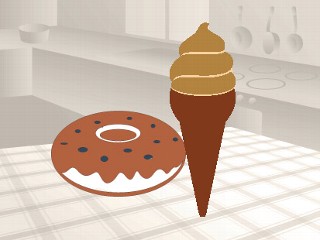 From the kitchen of Gourmet
|
Besides good cheer and presents beneath the tree, people share food during the holidays -- especially sweets. Cookies often are a favorite snack, especially considering that St. Nick is a cookie fanatic. Gourmet's Sara Moulton came to "GMA" to share some of the magazine's favorite cookie recipes.
These small muffin-shaped cookies deliver a brown-sugar-infused crunch, followed by an intensely fruity burst of blueberries and lemon.
Ingredients
1 cup sliced almonds with skins
1 3/4 cups all-purpose flour
1/2 cup granulated sugar
1/2 cup packed light brown sugar, packed
2 teaspoons fresh lemon zest, finely grated
1/2 teaspoon cinnamon
1/2 teaspoon salt
1 1/2 sticks unsalted butter, softened
2 large egg yolks
1 teaspoon vanilla
2 teaspoons fresh lemon juice
1/3 cup dried blueberries
1/2 cup blueberry preserves
a nonstick mini-muffin pan with 24 1/8-cup cups (or 2 pans with 12 cups each)
Cooking Directions
Put oven rack in middle position and preheat oven to 375°F.
Toast almonds in one layer in a shallow baking pan, stirring once, until golden, three to five minutes. Cool completely in pan on a rack. Leave oven on.
Pulse flour, sugars, one teaspoon zest, cinnamon, and salt in a food processor until combined, then add butter and pulse until mixture resembles a coarse meal. Add yolks and vanilla and process until mixture begins to come together in clumps.
Transfer one cup of packed dough to a bowl and stir in almonds (some almonds will break) for almond crumble topping. Gather remaining dough into a ball.
Generously butter bottoms, sides, and top of muffin pan. Press one tablespoon dough into bottom and up side of each muffin cup. Chill until dough is firm, about 15 minutes.
Stir remaining teaspoon zest, lemon juice (two teaspoons), and dried blueberries into preserves in a small bowl. Spoon a rounded teaspoon of preserves mixture onto dough in each muffin cup. Crumble one rounded teaspoon almond topping evenly into each cup.
Bake until topping is deep golden brown and filling is bubbling -- about 20 to 25 minutes. Cool completely in muffin pan on a rack. Loosen edges of crumbles carefully with a small offset spatula or sharp knife, then carefully remove from pan. Crumbles will keep in an airtight container at room temperature for one week.
Makes 24 cookies.
Recipe copyright © 2005, Gourmet Magazine.
Other Recipes That You Might Like