Mario Batali's Italian Potato Salad
From 'Mario Tailgates NASCAR Style'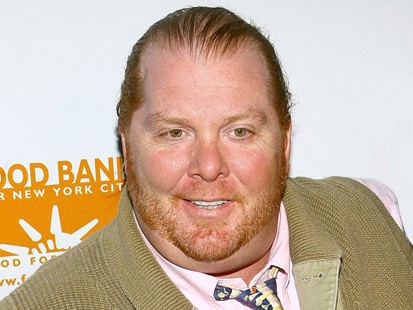 From the kitchen of Mario Batali
|
Food Network star and restaurateur Mario Batali has a new book, "Mario Tailgates NASCAR Style," which specializes in Southern-style grill favorites. Anyone who loves to tailgate will be sure to find something they like in this cookbook.
Ingredients
3 pounds small red potatoes, cut in half
1 medium red onion, finely chopped
3 celery stalks, finely chopped
8 slices cooked bacon, crumbled into small pieces
1 jar roasted red peppers (4 ounces), drained and coarsely copped
1/4 cup parsley, chopped
1/4 cup fresh basil, chopped (or 2 teaspoons dried)
2 teaspoons caraway seeds
1/4 cup extra-virgin olive oil
2 tablespoons red wine vinegar
1 teaspoon Dijon mustard
1 teaspoon salt
1/2 teaspoon freshly ground black pepper
Cooking Directions
It's best to start this recipe at home.
In a large saucepan, cover potatoes with cold water by an inch. Bring to a boil over medium-high heat. Reduce the heat to low, and simmer until the potatoes are just cooked through, about 16 minutes. They'll continue cooking a bit after you remove them from the pot. Drain well in a colander and let cool, gently turning the potatoes with a rubber spatula to allow the bottom ones to cool as well.
Add the onion, celery, bacon, red peppers, parsley, basil, caraway seeds and salt and pepper to taste. In a small bowl, whisk together the olive oil, vinegar, mustard and the salt and pepper.
Pour the dressing over the potato mixture and gently toss. Serve immediately or keep cold in a refrigerator or ice-filled cooler, covered, for up to one day.
Other Recipes That You Might Like