Payard Bistro's Snail Fricassee
Burgundy Snail Fricassee with Chanterelle Mushrooms, Pearl Onions, Lardons and Garlic-Parsley Butter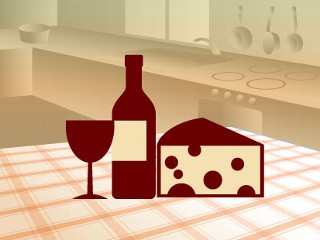 From the kitchen of Philippe Bertineau
|
For "Good Morning America's" "Eat and Greet," ABC's Christianne Klein went inside the kitchen of New York City's Payard Bistro to bring you executive chef Philippe Bertineau's recipe for Snail Fricassee.
Ingredients
Equipment
food processor
chinoise or strainer
Snails:
36 snails
1 cup white wine
1/4 cup white wine vinegar
1/4 cup lemon juice
1 carrot stalk, chopped
1 onion, chopped
2 garlic cloves, chopped
1 celery stalk, chopped
1 teaspoon black peppercorns
1 bay leaf
2 sprigs thyme
1 sprig rosemary
Fricassee:
1 pound Chanterelle mushrooms, trimmed and washed
1 tablespoon butter
1 shallot, minced
4 ounces bacon, cut in lardons
18 pearl onions, precooked
1/2 cup chicken glaze
Pinch of salt
White pepper, freshly ground
Garlic Butter:
8 tablespoons butter
2 garlic cloves
1/3 cup parsley, chopped
Salt, to taste
White pepper, freshly ground
Cooking Directions
For the garlic butter, place the softened butter in a food processor with the garlic and the parsley and season with salt and pepper. Blend until well incorporated and the butter becomes a bright green color. Remove from the food processor and keep at room temperature.
In a 4-quart pot, add 2 quarts of cold water, the wine, vinegar, lemon juice, carrot, onion, celery, garlic, peppercorns, bay, thyme and rosemary, and bring the pot to a simmer for 15 minutes. Strain the broth and return to the pot, and add the snails and simmer for 5 minutes more. Cool the snails in the broth in an ice bath and reserve for later.
Heat a large sauté pan with 1 tablespoon of butter and sweat the minced shallots over a medium flame. Add the morels and cook until they begin to soften, add some of the chicken juice if the pan becomes dry. Cook until the morels are tender, then remove from the pan and cool. Heat another pan over medium-high heat and render the bacon until begins to brown lightly.
Remove the excess fat from the pan and then add the snails, pearl onions and morels to the pan. Sauté together until hot, then add 1/4 cup of the chicken juice to the pan with the enough of the garlic butter until it becomes a glaze. Adjust the seasoning with salt and pepper. Divide the fricassee into 6 small bowls and serve while hot.
Note: For this recipe you can substitute the morels for any seasonably available mushroom.
Other Recipes That You Might Like