GMA Anchor Food Flashback: Diane Sawyer's Meatloaf and Sandwiches
A Homecooked Classic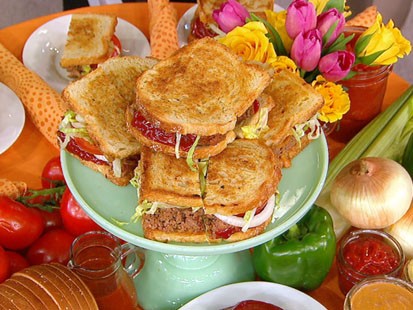 The 'GMA" anchor revisits her favorite meatloaf sandwich recipe.
From the kitchen of Diane Sawyer
|
This hearty family recipe, which is also great as meatloaf sandwiches, was created by Diane Sawyer's mother.
Ingredients
Meatloaf
2 pounds ground beef
4-5 slices of white bread toasted and loosely crumbled then soaked in milk, to make 1 cup
3/4 cup whole milk
1 egg
4-5 canned plum tomatoes, drained and diced (or 3/4 cup diced canned tomatoes, drained)
6 tablespoons sweet onion, finely chopped
3 tablespoons green pepper, finely chopped
3 tablespoons celery, finely chopped
1 cup ketchup, in the meatloaf
1 cup ketchup, for meatloaf topping
2 teaspoons salt
11/2 teaspoons ground black pepper
Sauce Ingredient
1 tablespoon. mayonnaise
1 tablespoon Dijon mustard
1 tablespoon. ketchup
1 tablespoon plus 1 teaspoon Heinz 57 sauce
1 tablespoon. A-1 sauce
1/4 teaspoon salt
1 pinch ground black pepper
Sandwich Ingredients
16 slices of white (or rye or whole wheat bread)
8 tablespoons sweet butter, softened
1 sweet onion, sliced thin
3 ripe tomatoes, sliced
1/2 head iceberg lettuce, shredded
Cooking Directions
Meatloaf Directions
Preheat oven to 350 degrees.
In a large mixing bowl combine the toasted bread crumbs, the milk and the egg. Mix together with a fork. Let stand 10 minutes.
Add the meat, tomatoes, onion, green pepper, celery, 3/4 cup ketchup, and the salt and pepper. Mix together with your hands.
Put in center of an iron skillet. Shape into a loaf.
Pour the cup of ketchup over the entire top, thickly.
Place the skillet into the preheated oven and bake for 1 hour and 15 minutes, or until internal temperature reaches 160 degrees (check with an instant read thermometer).
Let stand in juices until cool and firmer.
Meatloaf Sandwich Directions
In a medium bowl mix the sauce ingredients together with a spoon. Set aside.
Cut the meatloaf into 8 thick slices.
Spread softened butter on both sides of each slice of bread.
In a large frying pan "grill" each slice of bread on both sides until golden brown.
Then "grill" each meatloaf slice on both sides, in the same frying pan until browned nicely. (You may have to do this a few slices at a time.)
Top one side of grilled slice of bread with some of the sauce. Place one slice of meatloaf on top of the sauce. Place sliced tomato, onion and lettuce on top. Top with more sauce, then another slice of grilled bread and serve.
Other Recipes That You Might Like