White Chocolate Raspberry Mousse Cake
Make Winning 'Desperate Housewives, Desperate for Dinner' Dish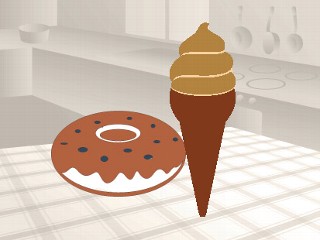 From the kitchen of Lynne Tennant
|
Try this recipe for White Chocolate Raspberry Mousse Cake, a winning dish for 'Desperate Housewives, Desperate for Dinner."
Ingredients
Cake:
1 cup sugar
1 cup all purpose flour
1/4 cup unsalted butter
1/2 cup water
1/4 vegetable oil
1 egg
1/4 cup buttermilk
3/4 teaspoon baking soda
1/2 teaspoon almond extract
Raspberry Sauce:
2 cups fresh raspberries
5 tablespoons confectioners sugar
White Chocolate Mousse:
8 ounces premium white chocolate
2 ounces unsalted butter, melted
3 eggs separated
3/4 cup heavy whipping cream
Raspberry Whipped Cream:
1 cup heavy whipping cream
1 tablespoon raspberry sauce that you have prepared
1 tablespoon granulated white sugar
Cooking Directions
Cake:
Preheat oven to 350 degrees.
In a large bowl, mix sugar and flour. In a small saucepan, melt butter, water and oil over medium-high heat. After boiling, pour over dry ingredients and mix. Add egg, buttermilk, baking soda, and almond extract and mix thoroughly.
Pour into 10 X 15 greased cake pan. Bake for 10 minutes or until toothpick comes out clean. Remove from oven and cool.
Raspberry Sauce (prepare while cake is baking):
Mix raspberries and sugar in small saucepan.
Cook for 3 minutes to 4 minutes until berries become soft. Puree mixture in food processor.
Strain through sieve and discard seeds. Set aside.
White Chocolate Mousse:
In medium saucepan, melt chocolate and butter.
Separate the 3 eggs. Beat eggs yolks into saucepan and remove from heat. Let cool.
In large bowl, beat egg whites until stiff peaks form. In a second bowl, beat whipping cream until stiff peaks form.
Fold whipping cream and eggs whites into the cooled chocolate mixture. Cover and refrigerate.
Raspberry Whipped Cream Frosting:
1. Mix whipping cream, sauce and sugar into a large bowl.
2. Cover and refrigerate with beaters for at least 30 minutes.
3. Remove from refrigerator and beat mixture until soft peaks form.
Cake Assembly:
Cut cake in half. Place 1/2 cake on serving tray. Spread 1/2 of white chocolate mousse mixture over cake.
Spread raspberry sauce over mousse. Spread remaining mousse over sauce. Place remaining cake on top of mousse.
Frost entire cake with raspberry whipped cream.
Other Recipes That You Might Like