Go Blue Grilled Chicken Nachos
Feasty Boys' Grilled Chicken Nachos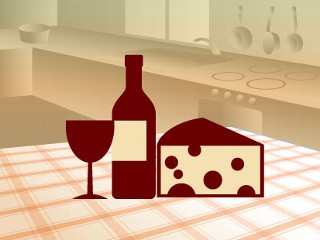 From the kitchen of The Feasty Boys
|
The Feasty Boys create Michigan-worthy treats for your tailgate party.
Ingredients
Chicken
1 to 2 lbs. boneless chicken breasts
1 bottle Italian salad dressing
1/2 cup Parmesan cheese (shredded)
Nacho Cheese Sauce
1/2 cup Corona Beer
1 tsp ground cumin
1/2 tsp chili powder
1 tsp garlic, chopped
1/4 tsp cayenne pepper
1 tomato, chopped
1 green onion, chopped
16 oz. Velveeta cheese, cut into 1/2-inch pieces
1/2 can sliced jalapeno peppers
1 to 2 bags blue corn tortilla chips
Cooking Directions
Chicken:
The night before you tailgate, place individual pieces of chicken between two sheets of plastic wrap and gently pound. Placed pounded chicken, salad dressing and Parmesan cheese in a plastic bag and allow meat to marinade overnight in the refrigerator. The next day, simply place bag in cooler before departing for game.
Nachos:
Once your grill is sufficiently hot, remove chicken from bag and grill approximately 4 minutes per side, preferably away from open flame, as the oil in the salad dressing will cause flare-ups.
While the chicken grills, combine beer, cumin, chili powder, cayenne pepper and garlic in a medium saucepan. Bring mixture to a simmer. Add tomato and green onion; stir until heated through. Add Velveeta cheese; stir until cheese thoroughly melts, about 3 minutes.
Once chicken is completely cooked, remove from grill and allow meat to "rest" several minutes prior to cutting. Slice chicken into bite-size pieces.
Place blue corn tortilla chips on a large serving tray (preferably blue or gold!). Liberally top with the chopped chicken. Carefully pour desired amount of nacho cheese over top and garnish with sliced jalapeno peppers.
Other Recipes That You Might Like