Turkey Alfredo Pizza
"Taste of Home" Recipe Is a Nutritious Family Favorite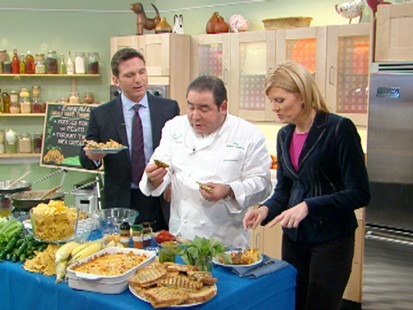 Check out Emeril Lagasse's best recipes for Thanksgiving leftovers.
From the kitchen of Edie Despain
|
Maybe you've resolved to eat healthy in 2009, and the good news is you can still have the comfort food you know and love.
Taste of Home, the world's No. 1 cooking magazine, has gathered recipes from hundreds of readers and compiled them into a healthy, easy-to-follow recipe collection called "The Taste of Home Comfort Food Diet Cookbook." Go to www.tasteofhome.com for more information.
A longtime family favorite, this thin-crusted pizza is chock-full of flavor and nutrition, and an excellent way to use up leftover turkey during the holidays. Serve this pizza with a bowl of vegetable soup or rustic green salad for a busy weeknight meal solution. - Edie Despain, Logan, Utah
Ingredients
1 prebaked thin Italian bread shell crust (10 ounces)
1 garlic clove, peeled and halved
3/4 cup reduced-fat Alfredo sauce, divided
1 package frozen chopped spinach (10 ounces), thawed and squeezed dry
2 teaspoons lemon juice
1/4 teaspoon salt
1/8 teaspoon pepper
2 cups cooked turkey breast, shredded
3/4 cup Parmesan cheese (shredded)
1/2 teaspoon crushed red pepper flakes
Cooking Directions
Place the crust on a baking sheet; rub with cut sides of garlic. Discard garlic. Spread 1/2 cup Alfredo sauce over crust.
In a small bowl, combine the spinach, lemon juice, salt and pepper; spoon evenly over sauce. Top with turkey; drizzle with remaining Alfredo sauce. Sprinkle with Parmesan cheese and pepper flakes.
Bake at 425 degrees for 11-13 minutes or until heated through and cheese is melted.
Nutrition Facts: 1 slice equals 300 calories, 9 g fat (4 g saturated fat), 60 mg cholesterol, 823 mg sodium, 27 g carbohydrate, 2 g fiber, 25 g protein. DIABETIC EXCHANGE: 3 lean meat, 2 starch.
Recipe courtesy of Taste of Home Comfort Food Diet Cookbook; 2008.
Other Recipes That You Might Like