Sandra Lee's Sweet Potato Cheesecake
Favorite Holiday Recipes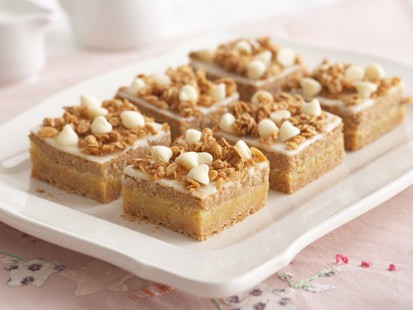 From the kitchen of Sandra Lee
|
Sandra Lee shares some of her favorite recipes just in time for the holidays.
One family-size ham makes a succulent entrée, then encores as fun-to-eat skewers and a down-home casserole. A molasses glaze pairs with pineapple to make luau-like kabobs, then takes on a pepper Jack kick in a cheesy meat and potato hot dish.
Ingredients
Yellow Crust
Nonstick vegetable cooking spray (Pam®)
1 package yellow cake mix (18.25-ounce Betty Crocker®)
1 stick butter (1/2 cup)
1 egg
Sweet Potato Filling
2 cups steamed sweet potatoes (16-ounces Ore Ida Steam N Mash®)
1 package cream cheese (8 oz. Philadelphia®)
1/2 cup sugar
1 egg
1 1/2 teaspoons pumpkin pie spice (McCormick®)
Sour Cream Filling
1 cup sour cream
1/4 cup sugar
1/4 teaspoon vanilla (McCormick®)
Granola Topping
1 1/4 cups granola cereal (Quaker® Oats & Honey)
1/2 cup white baking chips (Nestlé®)
1/4 teaspoon pumpkin pie spice (McCormick®)
Cooking Directions
Preheat oven to 350 degrees F. Spray a 9 x 13 inch baking pan with cooking spray.
For Yellow Crust, in a large bowl, combine cake mix, butter, and egg; beat with an electric mixer on low speed until mixture forms crumbs. Press crumb mixture evenly into prepared baking pan; set aside.
For Sweet Potato Filling, in a food processor, combine sweet potatoes (already steamed following instructions on the package), cream cheese, sugar, egg, and pumpkin pie spice; cover and process until smooth. Spread sweet potato mixture evenly over crust layer. Bake in preheated oven for 30 to 35 minutes or just until set and wooden pick inserted in center comes out clean.
For Sour Cream Filling, in a small bowl, combine sour cream, sugar, and vanilla; spread over hot sweet potato filling. Bake for 5 to 8 minutes more or until set and edges bubble. Cool in pan on wire rack.
For Granola Topping, in a small bowl, combine granola, white baking chips, and pumpkin pie spice; break up any large pieces of granola. Sprinkle granola mixture over sour cream filling; press in lightly. Cover with plastic wrap. Refrigerate for 3 hours or until chilled. Cut into bars.
Copyright © 2008 Sandra Lee Semi-Homemade Desserts 2
Other Recipes That You Might Like