Roasted Asparagus with Tarragon and Mint
Add a Little Green to Your Spring Buffet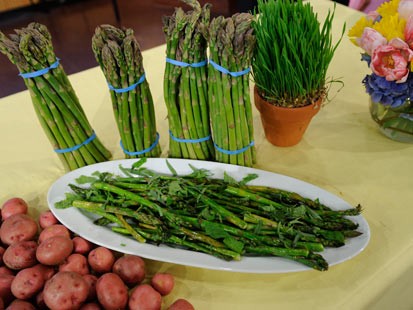 From the kitchen of Emeril Lagasse
|
Ingredients
2 pounds asparagus (small to medium), woody ends trimmed
1/2 teaspoon salt, plus more to taste if needed
1/2 teaspoon freshly ground black pepper
2 tablespoons olive oil
1 1/2 teaspoons champagne vinegar (or white wine vinegar)
1 tablespoon shallots, chopped
1 tablespoon tarragon, chopped
1 tablespoon mint, chopped
3 tablespoons extra virgin olive oil
Cooking Directions
Peel the bottom 2 to 3-inches of the asparagus. Lay asparagus along the length of a 9 1/2 inch by 13 1/2-inch rimmed baking sheet. It is OK if some of the stalks overlap.
Season with 1/4 teaspoon salt and the pepper. Drizzle with the olive oil. Using your hands, gently toss the asparagus to coat well, then reposition asparagus on the baking sheet. Roast in the oven at 350-degrees until crisp, tender and lightly browned at the tips, about 8 minutes.
While the asparagus is roasting, in a small bowl combine the vinegar, shallots, tarragon and mint. Whisk in the extra virgin olive oil and season with the remaining 1/4 teaspoon salt. Set vinaigrette aside.
Once asparagus is removed from the oven, immediately transfer it to a serving tray and drizzle with the vinaigrette. Taste and adjust seasoning if necessary.
Recipe courtesy Emeril Lagasse, copyright Martha Stewart Living Omnimedia, Inc.
Other Recipes That You Might Like