Mario Batali's Sangria Senor Cuomo
Get the Recipe: With $15 Worth of Groceries Chef Mario Batali Creates Brand-New Recipe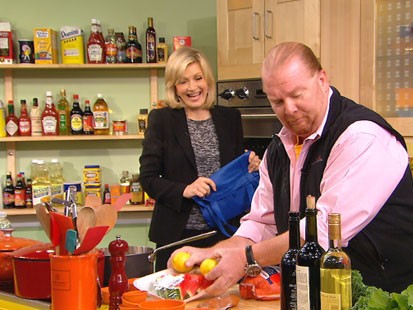 Diane Sawyer puts the chef to the ultimate cooking test.
From the kitchen of Mario Batali
|
As part of "GMA's" $15 Dinner Dare series, each day an anchor will unveil a list of secret ingredients. Then a chef will have to prepare a tempting meal live on-air with the newly unveiled ingredients in just minutes.
Mario Batali is the first chef to take on the challenge. Diane Sawyer gave him his list of surprise ingredient live on-air Monday.
Ingredients
1 small lemon, sliced thinly
1 pound diced watermelon
1-inch hand of fresh ginger, peeled and sliced into 1/8-inch discs
1 quart orange juice
3/4 of a bottle of dry white wine
2 cups white grape juice
Cooking Directions
Combine all ingredients in a pitcher with lots of ice, stir, and let sit for 30 minutes to 1 hour.
*Recipe courtesy of Mario Batali
Other Recipes That You Might Like