Cat Cora's Robin Moroccan Pasta Salad
Get the Recipe: With $15 Worth of Groceries Chef Cat Cora Creates Brand-New Recipe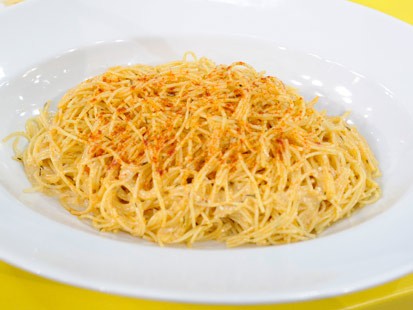 From the kitchen of Cat Cora
|
As part of "GMA's" $15 Dinner Dare series, each day an anchor will unveil a list of secret ingredients. Then a chef will have to prepare a tempting meal live on the air with the newly unveiled ingredients.
Cat Cora is the third chef to take on the challenge. Chris Cuomo gave her a list of surprise ingredients live on the air today.
Ingredients
1 lb. Capellini pasta
2 tbsps. olive oil
1/4 c. orange juice
3 tbsps. white wine vinegar
Juice of half a lemon
1/4 c. mayonnaise
1/2 tsp. ground cumin
1/2 tsp. red curry
1 tsp. dried thyme
1/2 tsp. paprika
Salt and pepper to taste
Cooking Directions
Cook pasta according to directions on package.
In a large bowl combine olive oil, orange juice, white wine vinegar and lemon juice. Stir with wire whisk. Add mayo and spices and stir until incorporated. Season with salt and pepper to taste.
Toss pasta with vinaigrette and serve warm or at room temperature.
*Recipe courtesy of Cat Cora
Other Recipes That You Might Like