Wolfgang Puck's Mississippi Apple Pie
With $15 Worth of Groceries Chef Wolfgang Puck Creates Brand-New Recipe: Get It Here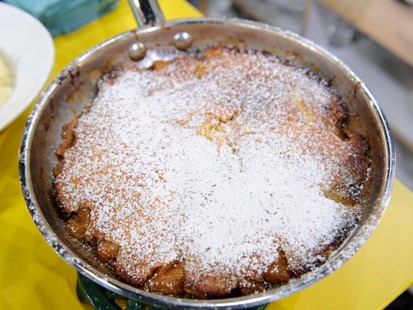 From the kitchen of Wolfgang Puck
|
As part of "GMA's" $15 Dinner Dare series, each day an anchor will unveil a list of secret ingredients. Then a chef will have to prepare a tempting meal live on the air with the newly unveiled ingredients.
Wolfgang Puck is the fourth and final chef to take on the challenge. Robin Roberts gave him a list of surprise ingredients live on the air today.
Ingredients
3/4 stick butter
4 McIntosh apples, peeled and cut into eighths
Juice of one lemon
4 tbsps. light brown sugar
1 tsp. ground ginger
1 tsp. cinnamon
1/2 c. orange juice
1 Jiffy box corn muffin mix
1/2 tsp. salt
1/2 tsp. cinnamon
1 egg
1 c. milk
1 tbsp. vanilla
1/2 c. yogurt
Cooking Directions
Peel and slice apples. Toss with lemon juice.
Preheat oven to 500 degrees.
In a 10-inch, oven-safe skillet, melt butter over high heat. Add apples and saute until softened and nicely caramelized, 10-15 minutes. Add brown sugar, ginger, cinnamon and saute for 5 minutes longer, until a syrup forms and the apples are fork-tender. Add orange juice to pan and stir.
In a large bowl, combine corn muffin mix, salt and cinnamon with a wire whisk. In a separate bowl, whisk together egg, milk, vanilla and yogurt. Add to dry ingredients. Stir until combined. Place batter on top of apples in skillet and spread evenly with a spatula.
Bake in oven at 500 for 15 minutes or until top is golden brown and a knife inserted in the center comes out clean.
*Recipe courtesy of Wolfgang Puck
Other Recipes That You Might Like