Deep-Dish Brownies
From the Food Network's 'How to Boil Water'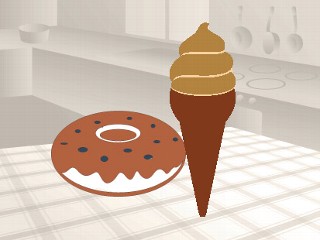 From the kitchen of the Food Network
|
Ingredients
1/2 cup unsalted butter (1 stick), plus more for the baking dish
4 ounces unsweetened chocolate
1 cup light brown sugar, packed
3/4 cup white sugar
1/2 teaspoon fine salt (table salt)
1 1/2 teaspoons pure vanilla extract
4 large eggs, cold
1 cup all-purpose flour
Chocolate Glaze
6 oz. bittersweet or semisweet chocolate
8 tablespoons unsalted butter (1 stick)
1 tablespoon honey
Cooking Directions
In a microwave-safe bowl, melt chocolate and butter in the microwave on 75 percent power for two minutes. Stir, and microwave until both are completely melted, about two minutes more. (Or put the chocolate and butter in a heatproof bowl. Bring a saucepan filled with an inch or so of water to a very slow simmer; set the bowl on the pan without letting it touch the water. Stir occasionally until mixture is melted and smooth.)
Stir the sugars, salt, and vanilla into the chocolate mixture with a wooden spoon. Add the eggs and beat vigorously until fully incorporated. The batter should be thick and glossy. Add the flour and stir gently just until the flour disappears into the chocolate.
Pour batter into the prepared pan and bake until the top is crispy and a toothpick inserted into the middle comes out mostly clean, with a few crumbs, 40 to 50 minutes. (Go for a shorter time if you like your brownies on the gooey side).
Cool the brownies in the pan. Lift the brownies out of the pan, using the foil as handles. Peel off the foil and cut brownies into squares of desired size.
UPGRADE YOUR BROWNIES: Add 1 cup chopped nuts just as the flour gets mixed in or ice them with Chocolate Glaze.
Makes about 24 (1 1/2 - inch squares) or 16 (2-inch) squares.
Other Recipes That You Might Like