Emeril's Blue Crab and Corn Chowder
Recipe courtesy Emeril Lagasse, courtesy Martha Stewart Living Omnimedia, Inc.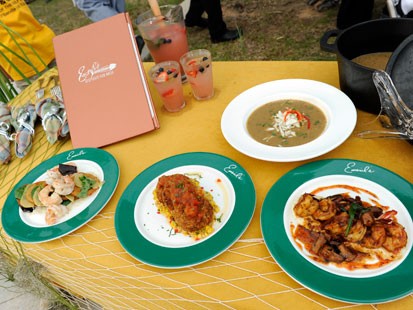 From the kitchen of Emeril Lagasse
|
In June 2008, Emeril Lagasse called upon Steve D'Angelo to lead the kitchen at Emeril's Gulf Coast Fish House as chef de cuisine.
D'Angelo holds a deep appreciation for the bounty of the gulf waters, sourcing local oysters, fish and shrimp straight from the docks, along with fresh exotic catch flown to the restaurant daily, and locally grown produce and farm products.
Ingredients
4 ounces bacon, chopped
1 cup onions, finely chopped
1/2 cup carrots, finely chopped
1/2 cup celery, finely chopped
2 tablespoons garlic, minced
3/4 cup red bell peppers, finely chopped
5 cups fresh corn kernels (from about 7 ears)
1/4 cup all-purpose flour
2 quarts crab stock, shrimp stock, or chicken stock
1/2 to 1 pound lump crab meat, picked over for shells and cartilage
1 1/2 cups 1/2-inch cubes peeled russet potatoes
1 tablespoon salt
1/4 teaspoon cayenne pepper
1 cup heavy cream
Fresh parsley, finely chopped, for garnish
Cooking Directions
Place an 8-quart stockpot over medium heat and cook the bacon until crispy, about 5 minutes. Remove the bacon and drain on paper towels. Add the onions, carrots, and celery and cook, stirring often, until vegetables are soft, about 5 minutes.
Add the garlic and cook until fragrant, about 30 seconds. Add the bell peppers and corn to the pot and cook for 10 minutes, stirring often. Sprinkle the flour into the pot and cook, stirring constantly, for 5 minutes. Pour the stock into the pot and stir to combine. Use a whisk if necessary to break up any lumps.
Add the potatoes to the pot and bring to a boil, then reduce to a simmer and continue to cook for 20 minutes. Season the chowder with the salt and cayenne and stir in the crab meat and cream. Serve with the bacon and parsley as garnish.
*Recipe courtesy Emeril Lagasse, courtesy Martha Stewart Living Omnimedia, Inc.
Other Recipes That You Might Like