Taste of Home's Italian Meatball Tortes
Courtesy of Sandy Blessing of Ocean Shores, Wash.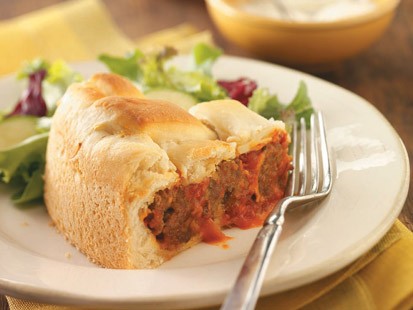 From the kitchen of Taste of Home
|
With classic Italian flavor, this hearty pie -- filled with tomatoes, mozzarella and moist homemade meatballs -- will be a hit with your family. "Preparation takes some time, but it's well worth it."
Ingredients
1 package active dry yeast (1/4 ounce)
1/4 cup warm water (110° to 115°)
3/4 cup warm milk (110° to 115°)
1/4 cup sugar
1/4 cup shortening
1 egg
1 teaspoon salt
3 1/2 to 3 3/4 cups all-purpose flour
Meatballs:
1 can evaporated milk (5 ounces)
2 eggs, beaten
1 cup quick-cooking oats
1 cup saltines, crushed
1/2 cup onion, chopped
1/2 cup celery, chopped
2 teaspoons salt
2 teaspoons chili powder
1/2 teaspoon garlic powder
1/2 teaspoon pepper
3 pounds ground beef
Filling:
1 can crushed tomatoes (15 ounces)
1/2 cup onion, chopped
1/3 cup Parmesan cheese, grated
1 teaspoon fresh parsley, minced
1 1/2 teaspoons dried basil
1 1/2 teaspoons dried oregano
1 teaspoon salt
1 1/2 cups part-skim mozzarella cheese, shredded, (6 ounces)
Cooking Directions
In a large bowl, dissolve yeast in warm water. Add the milk, sugar, shortening, egg, salt and 2 cups flour. Beat until smooth. Stir in enough remaining flour to form a soft dough.
Turn onto a floured surface; knead until smooth and elastic, about 6-8 minutes. Place in a greased bowl, turning once to grease the top. Cover and let rise in a warm place until doubled, 1 to 1 1/2 hours.
In a large bowl, combine the milk, eggs, oats, saltines, onion, celery and seasonings. Crumble beef over mixture and mix well. Shape into 1 1/2-inch balls. In a large skillet over medium heat, cook meatballs in batches until no longer pink.
Meanwhile, place tomatoes and onion in a small saucepan. Bring to a boil. Reduce heat; simmer, uncovered, for 10 minutes or until slightly thickened. Stir in the Parmesan cheese, herbs and salt.
Punch dough down. Divide into three portions. Roll two portions into 11-inch circles; line the bottoms and press partially up the sides of two greased 9-in. springform pans. Roll third portion into a 12 inch x 10 inch rectangle; cut into 12 10 inch x 1 inch strips.
Place meatballs in prepared crusts; top with tomato mixture and mozzarella cheese. Make a lattice crust with strips of dough; trim and seal edges. Cover and let rise for 30 minutes. Bake at 350° for 30-35 minutes or until golden brown. Cut into wedges.
Yield: 2 tortes
Other Recipes That You Might Like