West Coast Philly Cheese Steak
Philly Meets the West Coast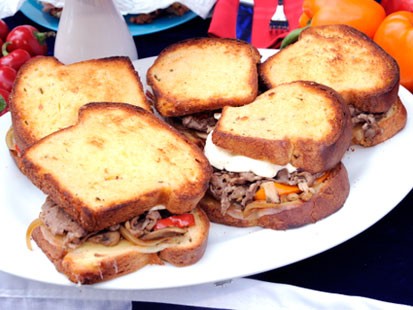 From the kitchen of JB Herzler & Sue Musso
|
You can take the a man out of Philly, but not the Philly out of the man. This is JB Herzler's recipe for a West Coast Philly cheese steak. It combines his love of the cheese steak with West coast flavors.
Do you think you make the best sandwich in the country? Click here to tell us how you do it.
Ingredients
1 pound fresh Boneless Rib Eye steak
1/4 cup water
1/2 clove garlic, minced
3 tablespoons Worcestershire
2 tablespoons Ken's Lite Balsamic Vinaigrette
1/4 teaspoon Lawrys salt
1/4 teaspoon Montreal Steak Seasoning
1/8 teaspoon ground pepper
1/2 teaspoon hot sauce
4 slices skim mozzarella cheese
2 tablespoons butter
1/2 medium onion
1/2 red pepper
1/2 orange pepper
4-5 cans sweet cherry peppers
1 cup mushrooms
Jalapeno Cheese Bread
beef mixture, reserved
beef broth, reserve for dipping
Cooking Directions
Start with 1 lb fresh Boneless Rib Eye steak. Freeze the steak until mostly frozen then slice paper thin.
Marinate meat in water, clove garlic, Worcestershire, Balsamic Vinaigrette, salt, Steak Seasoning, ground pepper, hot sauce. Marinate 1 hour.
Cook meat & marinate in 2 quart pan until done. Drain liquid & set aside.
Add 2 slices skim mozzarella cheese until melted.
In separate pan, melt butter and sauté onions, red peppers, orange peppers, sweet cherry peppers, mushrooms and garlic. Sauté pepper mixture until tender.
Lightly broil Jalapeno Cheese Bread and slice.
Place Provolone cheese on each sandwich.
Top with beef mixture and then peppers.
Serve with saved beef broth on the side for dipping.
Other Recipes That You Might Like