Peanut Butter Dream Bars
From 'Cook Yourself Thin'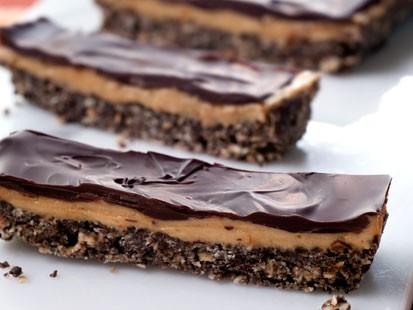 From the kitchen of Lifetime Television
|
Put down that jar! Go ahead and pinch yourself if you'd like, but you're not dreaming. These tasty peanut butter bars will satisfy several cravings at once and do it without breaking the fat bank.
Ingredients
1/2 cup low-calorie thin chocolate wafers, finely ground in a food processor
1/2 cup old-fashioned oats
1/3 cup confectioners' sugar
1/2 teaspoon salt
3 tablespoons unsalted butter, melted and cooled
1/4 cup creamy reduced-fat peanut butter
1 1/2 ounces reduced-fat cream cheese, room temperature
2 teaspoons pure vanilla extract
2 tablespoons semi-sweet chocolate chips, melted
Cooking Directions
Line a 9 x 4 inch loaf pan with wax paper or baking parchment leaving a 2-inch overhang on the long sides.
Combine the ground wafers, oats, sugar and 1/4 teaspoon salt in a medium bowl. Stir in the butter until everything is evenly moistened. Stir in 1 tablespoon peanut butter until mixture forms large clumps. Transfer mixture to lined loaf pan and press into an even layer. Refrigerate until firm, about 10 minutes
Meanwhile, beat cream cheese with an electric mixer on medium speed until smooth and fluffy, about 2 minutes. Add vanilla, remaining 3 tablespoons peanut butter and remaining 1/4 teaspoon salt, and beat on medium speed until pale and nearly doubled in volume, about 7 minutes. Transfer to the loaf pan and spread in an even layer over cookie crust. Freeze until firm, about 10 minutes.
Spread the chocolate in a thin, even layer over the chilled peanut butter layer. Refrigerate until firm, about 10 minutes. When read to serve, lift bars out of the pan using the wax paper overhang. Cut crosswise into 8 bars and serve cold.
Calories per serving: 157
*Courtesy of Cook Yourself Thin: Skinny Meals You Can Make in Minutes
Other Recipes That You Might Like