Sandra Lee's Mini Apple Pies
Make Your Independence Day Meal a Great With This Sweet Dessert Recipe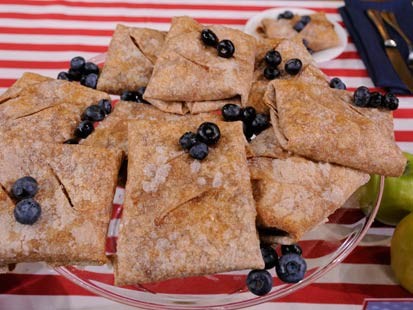 From the kitchen of Sandra Lee
|
Semi-homemade chef Sandra Lee cooks up delicious a summer dessert recipe for Independence Day.
Ingredients
4 Whole wheat flour tortillas ($.66)
1 can (21 ounces) apple pie filling ($1.09)
1 tablespoons milk ($.03)
1 teaspoon sugar ($.01)
Cooking Directions
Pre-heat oven to 350 F.
Warm the tortillas in a microwave to make them pliable.
Divide the apple filling between the 4 tortillas.
Fold in ends and then roll up each tortilla.
Place on an un-greased baking sheet and make slashes to allow stem to vent.
Brush tops with milk and sprinkle with sugar.
Bake for 20 minutes or until lightly browned.
Other Recipes That You Might Like