Ivy Larson's Peanut Butter Blondie Bars With Chocolate Chips
Recipe Courtesy Ivy Larson, Adapted From 'The Whole Foods Diet Cookbook'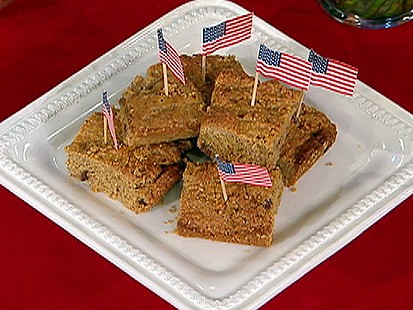 Barbecue meals that won't bust your diet.
From the kitchen of Ivy Larson
|
Ingredients
Canola oil cooking spray
1 cup all-natural chunky peanut butter
3 cage-free organic omega-3 eggs
3/4 cup brown sugar
1/4 cup low-fat organic milk
2 teaspoons pure vanilla extract
1 teaspoon aluminum-free baking powder
1 cup wheat germ
1/2 cup white whole-wheat flour
3/4 cup mini dark chocolate chips
Cooking Directions
Preheat oven to 350°F.
Coat an 8 x 8-inch square glass baking dish with cooking spray.
In a medium-size bowl, combine the peanut butter, eggs, sugar, milk, and vanilla until smooth.
Add the baking powder and blend thoroughly.
Mix in the wheat germ and flour just until blended.
Stir in the chocolate chips.
Scrape the batter into the prepared pan and bake for 25 minutes, or until a knife inserted in the center comes out moist but clean.
Remove the pan from the oven and use the back of a spoon to flatten and smooth the top.
Let the blondie bars cool on a rack for at least 15 minutes before serving.
Cut into 12 squares and enjoy!
Other Recipes That You Might Like