Adam Perry Lang's Grilled Peaches
Recipe Courtesy of Adam Perry Lang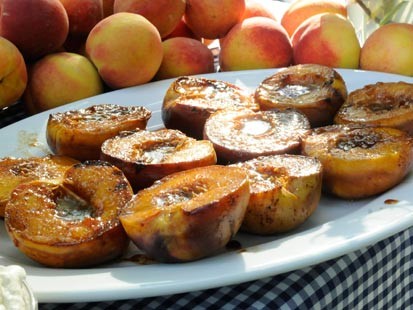 From the kitchen of Adam Perry Lang
|
When you're working with ripe peaches, which are nearly perfect already, you don't want to change the flavor and texture too much -- you just want to take them to the next level. So instead of cooking the fruit, I use a hot griddle just to intensify the natural sweetness and tartness, and to maximize caramelization. They make a great partner for chicken and pork dishes, especially those with peaches in the sauce or glaze, or with some heat, like my Bone-In Pork Butt with Green Apple and Crushed Hot Red Pepper. Oh, and did I mention I add brandy and peach Jell-O?
-Adam Perry Lang
Ingredients
1/4 cup brandy
1/2 cup peach Jell-O
1/2 cup granulated sugar
1 teaspoon cayenne pepper
8 large freestone* peaches, halved and pitted
About 1/4 cup oil, canola or vegetable
1 stick of unsalted butter, cold and unwrapped
Fleur de sel (or any sea salt)
Tip: A freestone peach is just a peach with a pit that pops out easily when you cut the fruit in half.
Cooking Directions
Place a cast-iron griddle on a well-oiled charcoal or gas grill. Preheat all areas to medium.
Pour the brandy into a shallow bowl.
Combine the Jell-O, sugar, and cayenne and spread in the bottom of a sheet pan that will hold the peach halves in a single layer.
For each of the halves, dip the cut side into the brandy, then place, cut side down, in the Jell-O mixture. Let the peaches sit in the mixture for 5 minutes.
Lift up the peaches. There should be a thin, almost translucent layer of the mixture on the cut side. If any granules remain, lightly brush off with a clean pastry brush.
Using a pastry brush, lightly blot the cut sides with canola oil.
Pour enough oil on the griddle to create a thin film, and let heat for about 5 minutes.
Place the peaches, cut side down, on the griddle.
After about 3 minutes, lift gently to peek at the color; they should be light golden. If not, continue to cook, checking about every 30 seconds.
Once golden, flip to the rounded side.
Touch the stick of butter to the griddle just enough to begin to melt it and then use to lightly coat the cut side of all of the peaches.
Flip back to be cut side down and continue to cook, adding additional butter and flipping as necessary to keep the cut side from getting too dark.
Cook until the peaches are tender, 3 to 5 minutes.
If at this point the peaches are cut side down, flip to be cut side up.
Touch the butter to the griddle and fill each of the wells in the peaches with butter and sprinkle with fleur de sel.
Remove the peaches from the grill and arrange on a serving plate.
Other Recipes That You Might Like