Florian Hugo's Lobster Bisque with Sauteed Mushrooms
Chef's Table: Brasserie Cognac Recipe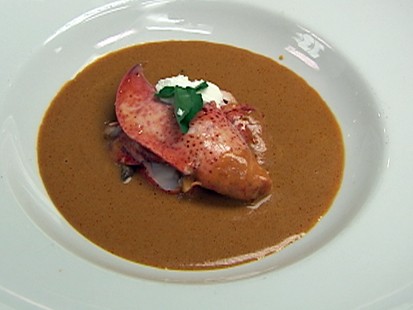 Brasserie Cognac chef Florian V. Hugo whips lobster into decadence.
From the kitchen of Florian V. Hugo
|
Chef Florian V. Hugo sautees cream and lobster into a sinful bisque.
Ingredients
For the Lobster Bisque:
1 oz olive oil
12oz sweet butter
6 fresh lobster heads (or 3 whole lobsters)
3 roma tomatoes, cut in 4
1 white onion, sliced
1 fennel bulb, sliced
1 garlic head, crushed
1 tablespoon tomato paste
2 oz dried porcini
1 glass chardonnay
3oz cognac (or cooking brandy)
2 qts of lobster stock or lobster water
2 tbsp whole black peppercorn
1 sliced lemon
1 small bunch basil
2 quarts heavy cream
1 wild mushrooms
½ bunch parsley, wash and chopped
Cooking Directions
For the Lobster:
Lobster heads are preferable
If you were not able to get lobster heads then Boil water in a big pot, large enough to fit the 3 lobster tails.Add a few whole peppercorn and 1 sliced lemon.
When the water is boiling, separate the heads from the tail and the claws. Throw them in the bouillon and cook for 3 min . then cool down right away in cold water. Remove tails from their shell then reserve in cover container in the fridge.
For the Bisque:
In a big pot , heat up olive and butter until butter is bubbling/foaming.
Roast lobster heads for 2-3 minutes on each side then reserve in a bowl. Start roast garnish beginning
by adding the garlic, the onion, the fennel then the tomatoes and the tomato paste.
Add the lobster heads, deglaze with the white wine and the brandy; let reduced for 2-3 minutes then add
the lobster stock or lobster water (from cooking the lobster). Color should bright orange-red.
Add peppercorn; cook for 20 min at simmering temperature.Then shut down heat and let rest for 15 min, adding lemon .
Strain through fine chinois, reduced by half then add the cream (previously reduce by half) and boil for 5 minutes.
Add basil and let infuse 10 min. strain and cool down.
To Finish:
Sautee the mushrooms in butter, with 1 crushed garlic clove, salt and pepper.
Place one spoon worth in 6 bowls.
Add on top one coffee spoon of whipped cream.
If you had to buy whole lobster, slice the cooked warmed tails in 10 and distribute 5 in each bowl.
Boil the bisque once, pour in a service pitcher then pour slowly in each bowl .
Serve immediately.
Other Recipes That You Might Like