Cat Cora's Grape Leaves Filled With Goat Cheese
On Chef's Table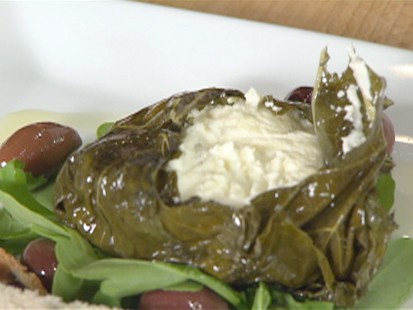 Chef Cat Cora grills and stuffs a Greek delight.
From the kitchen of Cat Cora
|
Ingredients
8 large grape leaves
8 ounces goat cheese
1 tablespoon mixed, fresh herbs (thyme, basil rosemary, and/or parsley), chopped
1 tablespoon lemon juice
2 cups extra virgin olive oil
½ teaspoon kosher salt
1/8 teaspoon freshly ground black pepper
2 cups cleaned and chilled, fresh arugula
1 tablespoon lemon juice
3 tablespoons extra virgin olive oil
8 slices Greek or a rustic loaf bread
Cured black and herbed Kalamata olives
Cooking Directions
Turn the grill on to high flame.
Mix the goat cheese, herbs, salt, and pepper, 1 tablespoon lemon juice and 3 tablespoons of olive oil in a bowl. Put aside.
Spread out the eight grape leaves in sets of two overlapping pairs. Scoop about two ounces, a rounded heaping tablespoon, of the goat cheese mixture placing it in the middle of a pair of grape leaves. Starting with one end, fold each side until the goat cheese is covered, making a rounded packet. Repeat with the remaining leaves. Place stuffed leaves in a shallow dish and cover with extra virgin olive oil until ready to use.
Using tongs, place the packets onto the grill. When marked on one side, about 1 minute, turn over, and mark on the other side. Grill until cheese is soft, about 1 minute. When soft remove from grill and place on platter. Brush slices of bread with olive oil, season with salt and pepper and grill both sides until lightly browned and toasted. Remove from grill.
For the salad :
Toss the arugula in a large salad bowl just prior to serving dress lightly with lemon juice and olive oil. Season with salt and pepper. Place a small mound of arugula in the center of each plate. Place the grilled cheese stuffed grape leaf on top of the salad. Cut a slice of bread on the bias and place on either side of the salad and garnish with marinated olives. Serve immediately.
Other Recipes That You Might Like