Emeril's Turkey and Pinto Bean Tostadas
Emeril Kicks Dinner Up a Notch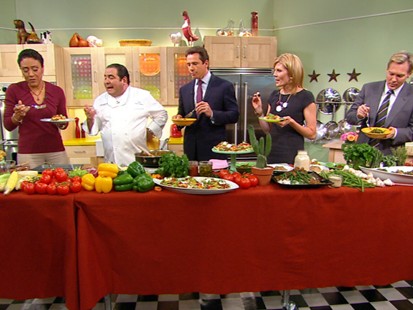 The chef prepares a turkey and pinto bean tostada.
From the kitchen of Emeril Lagasse
|
"For this open-face taco, we crisp the tortillas in the oven. Hold on to your sombrebos -- you're in for a real treat."
-- Emeril Lagasse
Ingredients
4 tablespoons olive oil
1 medium onion, chopped
1 pound ground turkey (preferably 85/15 blend)
2 tablespoons Mexican chili powder
1 1/2 tablespoons chopped garlic
1 1/2 teaspoons ground cumin
1 teaspoon salt
Two 15-ounce cans pinto beans, drained and briefly rinsed
11/2 cups chicken stock or canned, low-sodium chicken broth
15 fresh cilantro sprigs, stems and leaves chopped separately
8 to 10 corn tortillas
Condiments as desired for serving (such as grated cheese, chopped tomato, chopped red onion, shaved lettuce, salsa, pickled jalapeños, sour cream)
Cooking Directions
Preheat the oven to 400°F.
Set a skillet over medium-high heat, add 2 tablespoons of the olive oil and the onion, and cook, stirring, for 2 minutes. Add the turkey, chili powder, garlic, cumin, and salt, and cook, stirring and breaking up the meat as it browns, for 5 minutes. Add the beans, chicken stock, and chopped cilantro stems, and bring to a boil. Cook, mashing the beans frequently against the bottom and sides of the skillet, until the mixture is thickened to a refried bean consistency and the flavors have come together, about 15 minutes.
While the turkey-bean mixture is simmering, brush the tortillas on both sides with the remaining 2
tablespoons olive oil. Place them on baking sheets and bake in the oven until crisp, 12 to 15 minutes. Remove from the oven, and transfer to paper towels to drain and crisp briefly before serving.
Stir the cilantro leaves into the turkey-bean mixture. Spread the mixture over the crisped tortillas, and garnish with condiments as desired.
8 to 10 tostadas
Recipe courtesy Emeril Lagasse, from Emeril 20-40-60, Harper Studio Publishers, New York, 2009, courtesy MSLO, Inc.
Other Recipes That You Might Like