Jaime Oliver's Everyday Chopped Green Salad
A Simple and Delicious Meal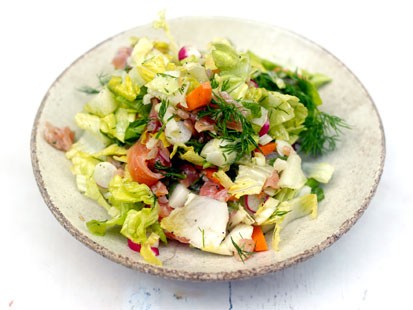 From the kitchen of Jaime Oliver
|
Chopped salads are incredibly simple to make -- you have to give them a go. If nothing else, they can offer you some chopping practice, so why not make something tasty while you're practicing your knife skills? Anyone can make these salads -- just make sure you use a good, sharp chef's knife and your biggest chopping board. And watch your fingers!
What I want to show you here is that the sky's the limit when it comes to the different ingredients you can add to a chopped salad -- you can use whatever's available. The only rule I would give you is to always include a couple of handfuls of crunchy lettuce to give your salad a really good texture. Try out different things, and don't feel obliged to use the same old stuff all the time. Bell peppers, tomatoes, herb sprigs, different types of cheese. … You can get any or all of these into a chopped salad.
Ingredients
4 scallions
1/2 cucumber
A handful of fresh basil leaves
2 small, just ripe avocados
1 butterhead lettuce
Large handful sprouted cress or alfalfa
Optional: 2 ounces cheddar cheese
Extra virgin olive oil
Red wine vinegar
English mustard (like the jarred Colman's)
Sea salt and freshly ground black pepper
Cooking Directions
Get yourself a big chopping board and a large sharp knife. It's best to start by chopping the harder, crunchier veggies first, so trim and chop your scallions and slice your cucumber. Slice your basil. Bring it all into the center of the board, and continue chopping and mixing together. Halve your avocados around the big pit. Carefully remove the pit and peel the skin off. Add the avocado flesh, lettuce leaves, and cress or alfalfa to the board. Crumble over the cheese, if using, and continue chopping. When everything is well chopped, you'll have a big mound of salad on the board. Make a well in the middle and drizzle in 6 tablespoons of extra virgin olive oil and 2 tablespoons of red wine vinegar. Add a teaspoon of English mustard and a good pinch of salt and pepper. Mix up so everything gets well coated and serve on the board or in a bowl.
*Recipe courtesy of Jamie Oliver from Jamie's Food Revolution; Hyperion, 2009.
Other Recipes That You Might Like