Home
>
GMA
>
Recipes Home
>
Bone Marrow Crusted Black Angus Beef With Braised Root Vegetables and Sauce Bordelaise
Bone Marrow Crusted Black Angus Beef With Braised Root Vegetables and Sauce Bordelaise
From Eleven Madison Park to Your Dinner Table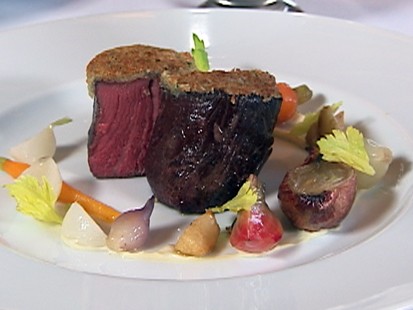 Eleven Madison Park's Daniel Humm bakes root vegetables to salted perfection.
From the kitchen of Daniel Humm
|
Ingredients
For the bone marrow crust
4 oz brioche bread crumbs
2 oz butter, room temperature
3 oz bone marrow removed from bone, diced and frozen
2 tbsp shallots, minced
2 tsp. thyme, picked from stem
2 tbsp Parsley, chopped
Dash salt
For the beef
4 pieces beef tenderloin (6 oz each)
Salt
1 tbsp canola oil
1 tbsp butter
3 sprig thyme
2 cloves garlic
For the celery root puree
2 pounds celery root, peeled
1 1/2 liters Half & Half
3 cloves garlic
3 sprigs thyme
For the vegetables
4 each baby round carrots, baby rutabaga, baby kohlrabi, baby turnips, pearl onions, small shallots
1-2 boxes of kosher salt
3 tablespoons butter
Salt, as needed
For the Sauce Bordelaise
1/2 cup full bodied red wine
1 cup veal jus or stock
2 oz. bone marrow, diced
1 tbsp shallots, minced
1 tsp. picked thyme leaves
Cooking Directions
Heat one tablespoon butter. Sweat shallots at low heat until translucent. Add herbs and mix thoroughly; cool mixture. Combine shallots and herbs with bread crumbs. Fold in butter and mix thoroughly. Fold in bone marrow dice and season with salt. Place in between two pieces of parchment paper and roll with rolling pin to about ¼ inch thick. Store in fridge until ready to use.
Season the beef with salt. In an oven-proof sauté pan, heat canola oil at medium heat. Sear the tenderloins slowly with little colorization. Add butter, herbs, and garlic. Place in oven at 340°F for about 8-12 minutes while constantly turning and basting with butter. Remove from oven and let rest on tray for about five minutes.
Turn on broiler at very high heat. Cut crust into rounds, the approximate size of each
tenderloin. Place crust on tenderloin and finish cooking under the broiler for 3-4 minutes
until crust is golden brown.
Dice celery root into small dice. Place celery root into sauce pan with cold half & half. Add
sachet of garlic and thyme. Bring up to a boil and simmer until tender. Strain and reserve
liquid. Blend the celery root and use the reserved liquid to attain the correct consistency.
Season with salt.
In a deep sided, oven proof baking dish, make a layer of kosher salt -- enough to cover the bottom of the dish. Place all of the vegetables, with peels on top. Cover the vegetables with enough salt to completely cover them. Bake at 350° for about 1 hour, or until tender. Remove from oven and let cool. Peel vegetables and set aside.
Reduce red wine to syrup consistency. Add veal stock and bring to boil. Combine bone
marrow, shallots and thyme and place on small tray. Place in the oven under boiler very high heat for 1-2 minutes until bone marrow starts melting. Before serving add to veal jus.
Melt butter in sauté pan. Add vegetables and sauté to heat through as well as glaze in butter. Season with salt. Spoon celery root puree as well as glazed root vegetables on to plate. Slice each beef horizontally in half and place on plate. Finish with Sauce Bordelaise.
Other Recipes That You Might Like