1-2-3 Peach Cobbler
Healthy Take on a Classic Dessert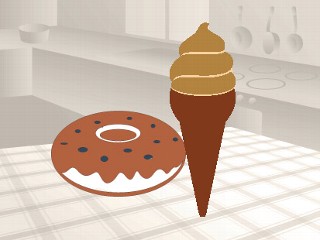 From the kitchen of National Heart, Lung and Blood Institute
|
Dishes can be good for your heart, taste great and please your whole family -- kids included. Heart-healthy cooking simply means making dishes that are low in saturated fat, trans fat, cholesterol, and moderate in total fat.
This recipe was specially developed by the National Heart, Lung, and Blood Institute and is reprinted with permission.
Ingredients
1/2 tsp ground cinnamon
1 Tbsp vanilla extract
2 Tbsp cornstarch
1 cup peach nectar
1/4 cup pineapple or peach juice (can use juice from canned peaches)
2 cans (16 oz each) peaches, packed in juice, drained, (or 1 3/4 lb fresh), sliced
1 Tbsp tub margarine
1 cup dry pancake mix
2/3 cup all-purpose flour
1/2 cup sugar
2/3 c evaporated skim milk
nonstick cooking spray, as needed
1/2 tsp nutmeg
1 Tbsp brown sugar
Cooking Directions
Combine cinnamon, vanilla, cornstarch, peach nectar, and pineapple or peach juice in saucepan over medium
heat.
Stir constantly until mixture thickens and bubbles.
Add sliced peaches to mixture. Reduce heat and simmer for 5-10 minutes.
In another saucepan, melt margarine and set aside.
Lightly spray 8-inch square glass dish with cooking
spray. Pour in peach mixture.
In another bowl, combine pancake mix, flour, sugar, and melted margarine. Stir in milk. Quickly spoon this
mixture over peach mixture.
Combine nutmeg and brown sugar. Sprinkle mixture on top of batter.
Bake at 400º F for 15-20 minutes, or until golden brown. Cool and cut into 8 squares.
Serving size: 1 square
Each serving provides:
Calories: 271
Total fat: 4 g
Saturated fat: less than 1 g
Cholesterol: less than 1 mg
Sodium: 263 mg
Total fiber: 2 g
Protein: 4 g
Carbohydrates: 54 g
Other Recipes That You Might Like