Diane Henderiks' Brown Rice Stuffed Chicken Breasts
Recipe Courtesy Diane Henderiks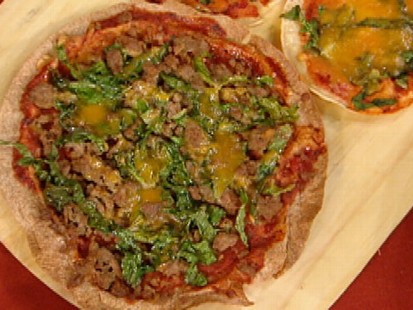 Break out of a food rut with seven recipes from seven staple ingredients.
From the kitchen of Diane Henderiks
|
Ingredients
3 tomatoes, seeded and chopped
2 teaspoons basil, dried
1 teaspoon garlic, minced
1 tablespoon olive oil
2 cups brown rice, cooked
2 tablespoons green onions, chopped
1/8 teaspoon garlic powder
1 teaspoon oregano, dried
1/4 cup cheddar cheese, shredded
1/4 cup Parmesan cheese, grated
4 boneless and skinless chicken breasts, halved
2 tablespoons olive oil
salt and pepper
Cooking Directions
Preheat oven to 400 degrees.
In bowl combine tomatoes, basil, garlic and oil. Season to taste with salt and pepper. Set aside.
Combine next 6 ingredients together in large bowl (rice through Parmesan cheese).
Cut a pocket in each chicken breast.
Spoon about 1/2 cup rice mixture into each pocket and close with a toothpick if needed.
Heat oil in large saute pan over medium high heat. Place stuffed chicken in pan and cook on one side until browned, about 5 minutes.
Place chicken, browned side up on baking sheet
Top with tomato mixture.
Bake 20 minutes.
Enjoy!
Other Recipes That You Might Like