Diane Henderiks' Chicken 'Fried' Rice
Recipe Courtesy Diane Henderiks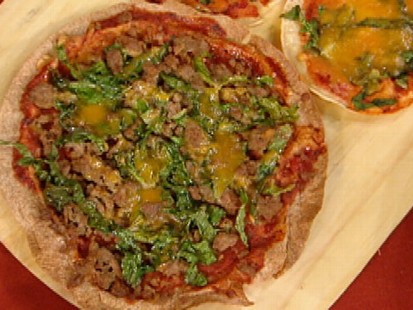 Break out of a food rut with seven recipes from seven staple ingredients.
From the kitchen of Diane Henderiks
|
Ingredients
1 tablespoon rice vinegar
2 teaspoons sesame oil
1 tablespoon low sodium soy sauce
1 teaspoon ginger, ground
1 teaspoon natural peanut butter
1/4 teaspoon red pepper, ground
1 tablespoon sesame oil
4 skinless and boneless chicken breasts, cut into bite sized pieces
1 cup carrot, grated
3/4 cup celery, diced
3/4 cup onion, thinly sliced
2 cups Romaine lettuce, shredded
2 cups brown rice, cooked
Sesame seeds
1/2 cup fresh flat-leaf parsley, chopped
Low sodium soy sauce
Cooking Directions
Combine first 6 ingredients (vinegar through red pepper) in bowl and whisk well. Set aside.
Heat oil in a wok or large saute pan over medium-high heat.
Add celery and onion and cook for about 3 minutes.
Add chicken and carrot and cook about 5 minutes.
Add shredded lettuce and cook 1 minute.
Drizzle 1/2 of the vinegar mixture into pan. Toss well.
Add rice, sesame seeds and parsley. Combine well.
Stir in remaining vinegar mixture and combine thoroughly.
Add additional soy sauce to taste.
Enjoy!
Other Recipes That You Might Like