Diane Henderiks' Enlightened Enchilada Casserole
Recipe Courtesy Diane Henderiks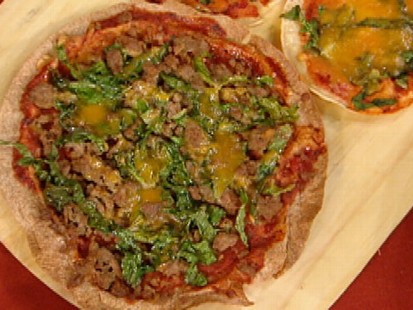 Break out of a food rut with seven recipes from seven staple ingredients.
From the kitchen of Diane Henderiks
|
Ingredients
1 bunch fresh cilantro, coarsely chopped (stems included)
1 medium onion, coarsely chopped
1 quart water
Juice of 1/2 lime
1 pound skinless and boneless chicken breast
1 cup low fat yogurt, plain
1 cup reduced fat sour cream
2 teaspoons cumin
2/3 cup green onion, sliced
1 1/2 cups reduced fat cheddar cheese
1 cup reduced fat cheddar cheese
1/2 cup black olives, sliced
1/4 cup jalapeno peppers, finely chopped (optional)
Salt and pepper to taste
8-10 tortillas
Cooking Directions
Preheat oven to 350 degrees.
Lightly oil or olive oil spray a 9x13 inch baking dish.
Place first 5 ingredients (cilantro through chicken) in pot on top of stove and poach chicken breasts until cooked (about 20 minutes).
Remove chicken breasts, discard remaining water, cilantro and onion and set aside to cool.
When cool, shred into small pieces. This can be done the day before.
In large mixing bowl, gently combine shredded chicken, yogurt, sour cream, cumin, green onion, 1 and 1/2 cup cheese.
Season to taste with salt and pepper.
Cover bottom of baking dish with enchilada sauce.
Cover with even layer of tortillas, breaking into pieces as necessary.
Top with even layer of chicken mixture followed by a layer of enchilada sauce.
Repeat until chicken is used up and end with layer of tortillas.
Top with enchilada sauce (CLICK HERE for recipe), cover and bake in preheated oven for about 35 minutes.
Uncover, top with remaining cheese and black olives. Bake about 5-10 minutes or until cheese melts.
Serve with extra enchilada sauce and chopped jalapenos on the side.
Other Recipes That You Might Like