Chicken Mole Pot Pie
From Village Tart To Your Dining Table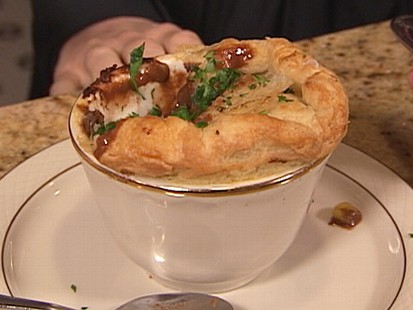 Village Tart chef Pichet Ong spices up traditional pot pie.
From the kitchen of Pichet Ong
|
Ingredients
Chicken
1 whole medium chicken, about 2 lbs
4 carrots, roughly cut
2" ginger, sliced into 1/4" coins
1 onion, roughly cut
1 garlic, halved
2 bunches thyme
2 bay leaves
1 bottle white wine
1 tablespoon salt
10 white peppercorns
Water to cover
Pie Filling
3/4 stick butter
1/2 cup shallots, diced 1/4"
50 g AP flour
1 cup frozen peas
1 cup sliced celery, diced 1/4#
3/4 cup corn kernels
3/4 cup carrots, diced 1/4"
1 cup diced potatoes, 1/4"
1 tablespoon salt
1/4 teaspoon white pepper
1 tablespoon cocoa powder
2 cups reserved chicken stock
1 cup milk
15 balls of valrohna xocopili chocolate balls
1 teaspoon chipotle pepper sauce
1/4 teaspoon celery seeds
1/4 cup brandy
add reserved chicken meat
Cooking Directions
Cooking Chicken
Bring everything but the chicken to a simmer. Let cook for 25 minutes until vegetables are soft. Turn off heat and set aside to room temperature.
Butcher chicken into 8 pieces, separating into 2 breasts, 2 thighs, 2 drumsticks, 2 wings, and saving all the backs and carcasses.
Remove the innards and use it for a different recipe.
Rinse chicken under cold running water and pat dry with a towel.
Add chicken pieces to chicken stock, starting with the wings, followed by thighs and drumsticks, and breasts on top, and turn heat to simmer and poach until chicken is tender and meat falls apart from the bones.
Remove chicken from stock and refrigerate until cold. Once cold, pull chicken meat, discarding skin and fat, and save the meat to be used in filling. Strain chicken stock for use later.
Pie Filling
Sautee butter with shallots and flour until browned. Add cocoa powder, chipotle, celery seeds, potatoes, and cook for another 2 minutes over medium heat, stirring constantly. Add chicken stock to deglaze, add milk, whisking until mixture comes to a boil, whisk in chocolate balls and emulsify until homogenous. Add the rest of the vegetables and bring the mixture to a boil. Fold in chicken meat and brandy. Consistency should be like that of a chowder.
Place filling in pie molds. Top off mold with pastry fit to size with a 1/2" overhang and season top
Assembly
Pastry cut to size with 1/4" overhang
Fill mold with chicken mole pie filling
Fit pastry to size. Season top with salt and pepper.
Bake at 375 degrees until top is golden brown and bubbling with filling. Let rest for 15 minutes and reheat before serving
Recipe Summary
Main Ingredients: chicken, mole, ginger, carrots, vegetables, chicken stock, milk, valrohna chocolates, brandy, spices
Course: Appetizer/Starter, Side Dish, Dinner, Main Course
Other Recipes That You Might Like