Grilled Sweet Potato Salad
Perfect Side Dish for Pork Loin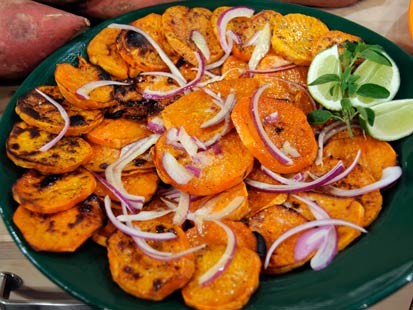 From the kitchen of Emeril Lagasse
|
Ingredients
2 pounds sweet potatoes, peeled and cut into 1/2-inch-thick rounds
1/4 cup plus 3 tablespoons olive oil
1 teaspoon salt
1/2 teaspoon freshly ground black pepper
11/2 tablespoons freshly squeezed lime juice, or more to taste
11/2 tablespoons roughly chopped fresh cilantro
1/4 cup very thinly shaved red onion
Cooking Directions
Preheat a broiler or a grill pan to medium-high.
Place the sweet potatoes in a bowl, and add the 3 tablespoons olive oil, salt, and pepper. Toss well. Then place the potatoes in a single layer on a baking sheet (or on the grill pan) and broil or grill until nicely caramelized, 2 to 3 minutes on each side. Adjust the oven to the bake setting and the temperature to 350 degrees F.
Transfer the potatoes to a baking sheet (if they've been grilled), place the pan in the oven, and bake until the potatoes are tender enough to easily pierce with a fork, 20 to 25 minutes. Remove from the oven and set aside to cool to room temperature.
Arrange the sweet potato slices on a platter, and drizzle the remaining 1 /4 cup olive oil and the lime juice over them. Sprinkle with the cilantro and red onion, and serve.
Recipe courtesy Emeril Lagasse, courtesy MSLO, Inc.
Other Recipes That You Might Like