Diane Henderiks' Black Bean & Quinoa Pilaf
Recipe Courtesy Diane Henderiks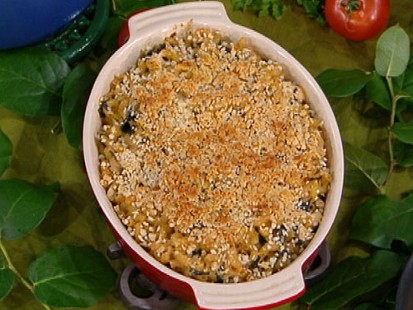 Energy-boosting dishes that are inexpensive and easy to make.
From the kitchen of Diane Henderiks
|
Ingredients
1 tablespoon olive oil
2 cups onion,chopped
1 cup celery, chopped
4 garlic cloves, thinly sliced
1 1/2 cups quinoa, rinsed
1 tablespoon chili powder
2 teaspoons ground cumin
1 teaspoon dry mustard
2 cups low sodium chicken or veggie broth
1 cup tomato sauce
1 cup diced tomatoes
1 cup corn kernels, cooked
2 cups black beans, cooked
3 green onions, sliced thinly
1/4 cup cilantro, chopped
1 tablespoon rice wine vinegar
1 tablespoon lime juice, freshly squeezed
Salt and pepper
Cooking Directions
Heat oil in large pan over medium heat.
Add onion, celery and garlic and cook until tender (5 minutes).
Add quinoa, chili powder, cumin and dry mustard. Cook and stir until quinoa begins to brown lightly.
Add broth and tomato sauce. Bring to a boil, reduce heat and simmer, covered, for about 20 minutes or until liquid is absorbed.
Combine next 7 ingredients (diced tomatoes through lime juice) in medium bowl.
Add tomato mixture to quinoa mixture and gently combine.
Season to taste with salt and pepper.
Serves 6
Other Recipes That You Might Like