Diane Henderiks' Chicken & Veggie Barley 'Risotto'
Recipe Courtesy Diane Henderiks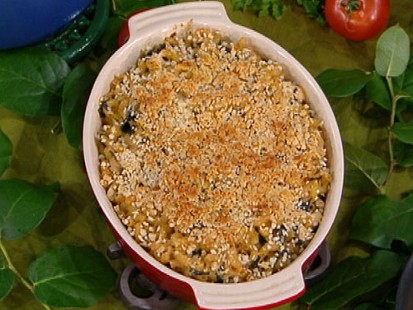 Energy-boosting dishes that are inexpensive and easy to make.
From the kitchen of Diane Henderiks
|
Ingredients
1 tablespoon olive oil
1 cup zucchini, diced and peeled
1 cup red bell pepper, diced
1 thyme sprig or 1 teaspoon dried thyme
1 1/2 cup carrot, grated
3/4 cup celery, diced
3/4 cup onion, thinly sliced
1/2 cup onion, finely chopped
1/2 teaspoon kosher salt
Black pepper, freshly grated
4 skinless and boneless chicken breasts, cut into 1/4 inch strips
1 3/4 cup pearl barley, uncooked
6 cups low sodium chicken or veggie broth
1 cup water
1/2 cup fresh flat-leaf parsley, chopped
2 teaspoons ground red pepper
1/2 cup fresh Parmesan cheese, grated
Cooking Directions
Heat oil in a large pot over medium-high heat.
Add zucchini, red pepper and thyme. Saute for 1 minute.
Add carrot, celery and onion. Saute for 3 minutes.
Add salt, pepper and chicken. Saute for 5 minutes.
Add barley and saute 1 minute.
Add broth and water. Bring to a boil.
Cover, reduce heat, and simmer for about 40 minutes. Add more broth as necessary.
Remove from heat. Discard thyme sprig.
Stir in parsley, ground red pepper and cheese.
Other Recipes That You Might Like