The New Orleans Saints headed home today after defeating the Indianapolis Colts 31-17 to win their first Super Bowl championship. It was an emotional victory Sunday for a city still struggling to recover from Hurricane Katrina.
"We gained so much strength from our fans, from the people of New Orleans, just knowing how much they care about us," Saints quarterback Drew Brees said on "Good Morning America" today. "And we take that as a sense of responsibility just to be able to give New Orleans the championship they deserve."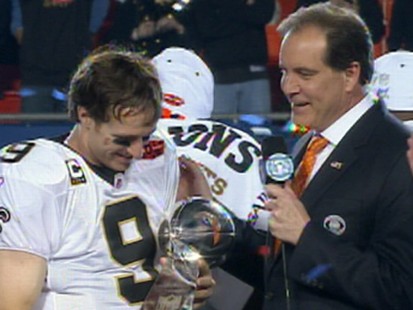 Fans streamed onto New Orleans' Bourbon Street Sunday night for a French Quarter celebration.
"All we've wanted to do is win a championship for them just because we know what it means for those people, those people who have been through so many hardships," said Brees, the game's most valuable player.
The Colts dominated the first quarter of the game, leading by 10 points after Colts quarterback Peyton Manning led a 96-yard touchdown drive.
But the Saints battled back. They had two field goals in the second quarter. They began the second half of the game with a successful onside kick that ended in a touchdown.
"We knew we were going to have to pull out all the stops to beat those guys. ... It was up and down, we had a slow start but we were able to pick up that momentum going into halftime with that two-minute drive and then just start the second half, the onside kick, that just goes to show you that, listen, we were there to turn it loose, leave it all out on the field," Brees said.
Brees tied the Super Bowl record for completed passes, completing 32 of 39. He now belongs to a very exclusive club of quarterbacks.
"If you make a list of the top quarterbacks in the NFL right now and you don't include Drew Brees, then you simply don't know what you're talking about," said Mike Greenberg, host of "Mike and Mike in the Morning" on ESPN.
Drew Brees' Launch to Stardom
Brees described the victory as surreal.
"You play your whole life for a moment like that and it is something we have dreamed about ever since coming to New Orleans four years ago and to now be sitting here as Super Bowl champs, there is no feeling like it," Brees said.
'Who Dat' Nation Rejoices
No one celebrated the Saints' victory more than the fans known as "Who Dat" Nation.
The phrase "who dat" was first coined more than a 100 years ago with roots in New Orleans' multicultural society.
"It started in minstrel shows at the beginning of the 20th century," one Tulane University historian said. "They were the precursors to blues and jazz and years later was picked up by sports fans as a way to cheer on fans in the later part of the century."
The chant, "Who dat say they gonna beat dem Saints? Who dat? Who dat?" was adopted by the team in 1983, and made popular by the New-Orleans-born R&B singer Aaron Neville. As the team's fortune's improved this season, so did the popularity of the chant.
Click here to return to the "Good Morning America" Web site.