But he was mistaken. Stick shifts, which harbor 356 germs per square inch, did worse, likely because they have a smaller surface area that concentrates the bugs.
Dashboard
Compared to British cars, American cars aren't much cleaner. In 2006, Gerba and a colleague did a larger study, swabbing interiors of 100 automobiles in five locations: Arizona, California, Florida, Illinois and Washington, D.C.
Gerba suspected that the dashboard was one of the most germ-laden locations in a car because it is one of the warmest places and has ventilation systems on either side that can aerate spores, blowing them out among unsuspecting passengers.
Indeed, the dashboard was one of the top hot spots for microorganisms, along with change holders, cup holders and children's car seats.
Your Phone
The telephone provides a convenient meeting place for two different sources of germs -- your hands and your mouth.
After all, as Tierno, pointed out, "People are the source of most of the germs."
These germs are not just from your hands, but sources like your saliva as well -- which is why the mouthpiece is often even dirtier than the handle.
And again, it's not a device people clean too often, which is why both land lines and mobile phones present a problem.
A study done in Israel last year showed that 20 percent of hospital workers' cell phones had some form of harmful bacteria on them.
Purses and Wallets
Although they serve similar functions for women and men, purses and wallets are germy for entirely different reasons.
"It behooves you not to put your purse on the floor or outside ground if you can help it," said Tierno.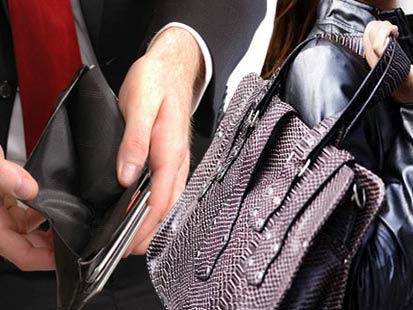 But many women don't follow that bit of advice, so their purses pick up the bacteria from wherever they're placed -- from the soiled ground to the bathroom floor.
While some might be willing to put it there because they think the floors are cleaned regularly and thoroughly, that isn't always the case.
"The way these places are cleaned is not ideal all the time," said Tierno.
Instead, he recommends putting your purse on a bench or a seat.
Wallets, meanwhile, pick up a lot of bacteria from what goes into them.
"Men's wallets were pretty bad on the inside," said Charles Gerba, a professor of microbiology at the University of Arizona whose work has earned him the nickname "Dr. Germ."
Paper currency has a way of getting around, from germ-filled hand to germ-filled hand. It picks up germs, viruses and often trace amounts of illegal drugs. That's not just an urban legend; several studies have confirmed that a majority of U.S. currency contains trace amounts of cocaine. And of course, all of that ends up in your wallet.
Because men keep wallets in their pockets, the wallet is close to body temperature -- an ideal temperature for bacteria to breed.
"When handling the contents of your wallet, after it, wash your hands," said Tierno.
The problem isn't as bad with coins, largely because the metals -- particularly nickel -- often kill many of the bacteria.
Children's Car Seats
Driving with more passengers in a car, particularly young passengers, increases the number of people sneezing, coughing and spilling food, leaving a trail of germs behind that can get transferred to the hands and on to the nose, mouth, or eyes, leading to a potential infection.
"Children are little bags of germs and if you car them around, they have more potential pathogens," said Tierno.