"A lot of younger, inexperienced runners join the team, and many have never run before," McDonough pointed out. "They wear the wrong footwear, don't know to stretch [before running], and just run with all their might," all reasons for the injuries that occur at the high school level.
To prevent such injuries, several trainers note that it's important to stretch, as well as be well-conditioned.
"Core stabilization helps prevent a lot of injuries," stated Dr. Tim Hosea, chairman of the sports medicine committee for the New Jersey State Interscholastic Athletic Association and associate professor at the Robert Wood Johnson Medical School.
However, those who participate in endurance-type sports such as track and field and cross country running are less likely to be injured because many of the athletes are trained to endure long periods of pain in their sport, noted Hosea.
"Those who participate in aerobic-based, lifelong sports -- those athletes tend to stay in shape later in life," Hosea said.
Swimming/Diving
The sports of swimming and diving have their fair share of strains and injuries at the high school level.
According to Jim Clover, coordinator at the S.P.O.R.T. Clinic in Riverside, Calif. And author of "Sports Medicine Essentials," both swimmers and divers primarily endure pain on their shoulders.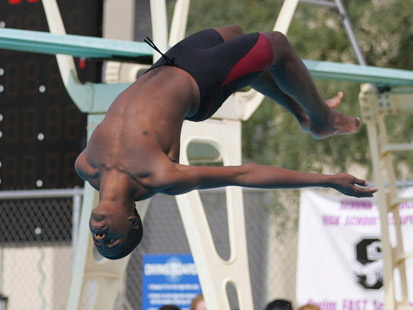 One of the most severe shoulder injuries for swimmers is impingement. This occurs when the small muscle on top of the shoulder underneath the bone -- called the supraspinatus -- is affected.
"When you raise your arms, it gets pinched [which is the result of] impingement syndrome," noted Clover.
Another injury associated with swimming include thoracic outlet syndrome, an injury more common among female swimmers where an entire arm can change color due to lack of circulation to the arm.
Divers have a different set of shoulder injuries to be concerned about due to the acrobatic jumps they must accomplish during practice and competitions.
"[Divers] do a lot of upper body stuff," said Clover. Because of the many flips and jumps they do, "they need to be wary of their core stabilization," Clover stressed.
The treatment for these injuries include the run-of-the-mill ice or ice massage right after swimming or diving as well as taping for joint support to increase circulation. Waiting until you get home may be too late, said Clover.
One important preventative measure against injuries can be summarized in one catchy phrase.
"Whatever you do in the front, do to the back," Clover said. This means that any core workouts you do to the front side of your body such as sit-ups, you must do to your back side to prevent strained muscles.
Basketball
Jumping for shots, blocking opponents at the basket and rushing for rebounds make the fast-paced game of high school basketball an arena for injuries.
What Bob Rausch has seen in his seven years as an athletic trainer for St. John's High School includes many ankle injuries on basketball players, several of them caused by opponent players accidentally landing or rolling over their feet.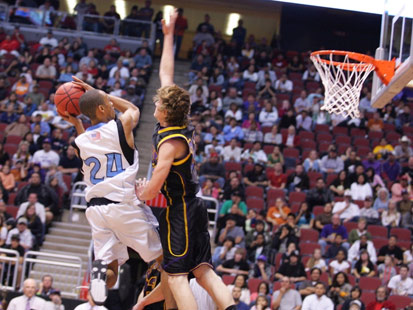 David Hess, boys' basketball coach at Tuscola High School in Central Illinois, can attest to these ankle injuries. According to Hess, sprained ankles are often seen as well. He has also witnessed torn ligaments, jammed fingers and knee injuries caused by the many jumps basketball players do both in practice and in games.