"The decision to pursue actual surgery ... is not something everyone is a good candidate for," Rogers said.
Bernstein noted that it does not prevent further hair loss if areas not treated are losing hair.
Also, "we're limited by the amount of donor supply that a person has. We're redistributing hair with a transplant, we're not creating new hair," he said.
There is some recovery after the procedure.
Bernstein said he advises patients to stay home the day after the procedure and to shampoo frequently. Patients experience redness of the scalp for a week following the procedure, and it will have a crust for a few days, he said.
"As long as you can wear a hat or cover it, or if you have some hair to disguise it, you can pretty much go back to work a few days later," he said, noting the full recovery period is around 10 days.
For those willing to go under the knife and pay the cost of the operation -- which can run from $2,500 to $14,000 -- according to Bernstein, follicular unit transplant may be the way to go.
Botox
While Botox has recently been promoted as a new potential baldness treatment, it has met with a good amount of skepticism.
"I have to see the data on that," Shapiro said. "I've not seen anything published on the use of Botox for hair re-growth."
The theory behind why Botox might work is that it dilates blood vessels, allowing nutrients into the hair follicle.
But it does not have widespread use -- or evidence. None of the dermatologists asked about this potential treatment had heard of it being used.
"I'd like to see some studies," Shapiro said. "I don't know if that's a real mechanism of action for how this works."
Rogaine
Surgery may be fine for some, but others prefer pharmaceutical treatments to the knife.
"The decision to pursue actual surgery ... is not something everyone is a good candidate for," said Rogers, adding that many of her patients begin with medications.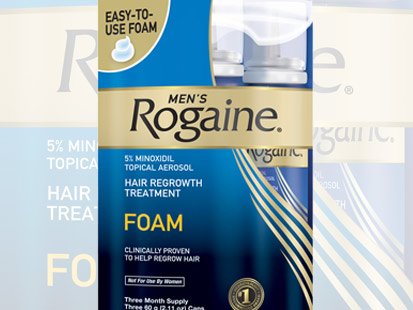 One of those pharmaceutical interventions is the topical application of minoxidil, a foam known to many by the brand name of Rogaine.
Like many other treatments, "It's probably not going to work that well" for people who have already lost a lot of their hair, Shapiro said.
But for those early on in the process, "I would recommend ... a topical minoxidil solution," he said.
Shapiro notes that minoxidil can produce some side effects. Seven percent of men get some irritation of the scalp, while fewer than one in 10,000 can get heart palpitations.
Hair Plugs
In this process, which is no longer widely used, a small, circular cone of scalp -- Bernstein compared it to a pencil -- was removed from the back of the head and placed in a hole put in the front.
"It's really not done anywhere," Bernstein said of the procedure, which served as a previous generation of follicle transplant.
While follicles are able to blend into the scalp and look natural, plugs never did because of their size -- they were 30 times larger than the follicles transplanted now.
The size made the plug look completely unnatural, something that can be gotten around -- when done properly -- with the modern follicle transplant.
'"We're actually dissecting the follicular unit out from the surrounding skin," Bernstein said. "We're talking about orders of magnitude."
Propecia
"Propecia is the best medication [for hair loss]. It works about 85 percent of the time, at least to prevent further hair loss," Bernstein said.