This can especially put a player at risk after suffering a concussion, where a second injury before recovering from the first can lead to long-term damage.
"I think it's important for coaches to realize that and to let their players know that they can come to them," Mueller said.
Lacrosse
Lacrosse is the fastest-growing high school sport in the nation, with roughly 144,000 participants in the 2007-08 school year, according to NFHS.
But that kind of growth can present its own problems. When a sport grows quickly, many new coaches may not have adequate training -- a situation some worry may lead to injuries.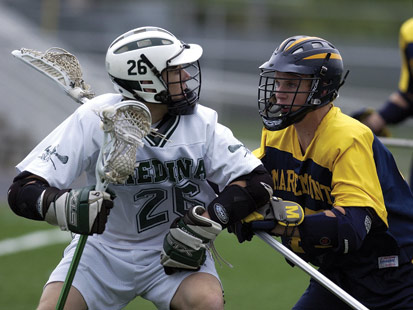 "It's a concern among the governing body, that it is growing so quickly," said Andrew Lincoln, director of orthopedic and sports health research for MedStar Research Institute.
Lincoln also serves on U.S. Lacrosse's sports, science and safety committee.
In conjunction with Union Memorial Hospital, Lincoln and other researchers are seeking to find out the causes of lacrosse injuries and reduce them.
"There's a lot of concern about whether or not the game is getting rougher, more aggressive, so we're focusing a lot of our research efforts on what's going on with concussions, what the mechanisms are," said Lincoln, noting that concussions were the most common injury for boys (but only fifth for girls).
They videotaped 500 high school lacrosse games in Fairfax County, Va., this past spring, and hope to present their preliminary results by the start of the next season.
One possible recommendation they might make is introducing a youth ball -- less dense than the one used at the collegiate and professional levels.
Baseball/Softball
While the sports are similar, the most common injuries in softball and baseball are quite different.
In baseball, "I would say the most common is with pitchers and arm injuries, whether that be shoulder, elbow, or just regular tendonitis," said Jared Voss, head coach of the baseball team at Joliet Catholic Academy, in Joliet, Ill.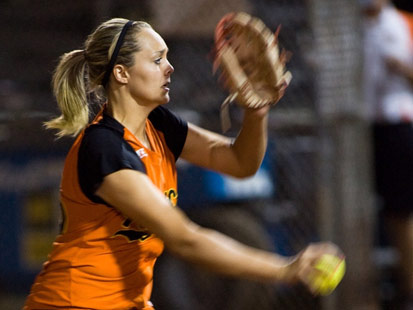 But while high school baseball pitchers have pitch counts and need to take days of rest in between starts, Kendall Ryndak, the 15-year-old sophomore starting pitcher at Downers Grove North High School in Downers Grove, Ill., pitches nearly all of her team's games.
"I know that I do pitch a lot and it can have a long-term negative effect on my arm," she said, but added "my arm is pretty healthy and I haven't had any injuries with my arm."
Ryndak said she had suffered a sprained ankle, but her arm has been fine despite playing softball year round since age 9.
Major differences for baseball and softball pitchers include underhand pitching in softball, versus overhand in baseball, and the distance from the mound to home plate -- 60 feet, 6 inches in baseball, but only 40 for softball.
As Ryndak's coach, Mark Margo noted, the more natural motion of underhand pitching has allowed her to pitch three games in a day, while when he was a baseball pitcher, he needed days off in between pitching outings. He said he monitors Ryndak much more closely when she is in the outfield and needs to throw overhand.
Also, he said, when it comes to throwing overhand, he has his fielders drill at shorter distances at the start of the season to build arm strength.