In fact, the UNC study showed women suffering a serious injury at a rate three times higher than the rate for men, and both were tops for severe injuries in any sport.
"Ice hockey and gymnastics had a higher rate than any of them," said Mueller.
While this may surprise some, Comstock, who has begun studying the sport this year, attributes hockey's higher injury rate to the rink.
"One of the differences in injury rates is the playing environment," she said.
While both sports involve high-speed collisions, she said, surfaces can make all the difference.
"In football, they're landing on a relatively soft surface compared to ice hockey," she said.
Also, Comstock noted, the walls surrounding the rink are perhaps the greatest source of injury. "In ice hockey, so much of the contact ends with an athlete striking the boards and the glass," she said.
Track and Field/Cross Country
Track and field injuries mostly occur in the field.
Mueller notes that the most common injuries are in the pole vault and discus--typically when someone is not paying attention and is hit by a throw.
"They shouldn't ever happen," he said.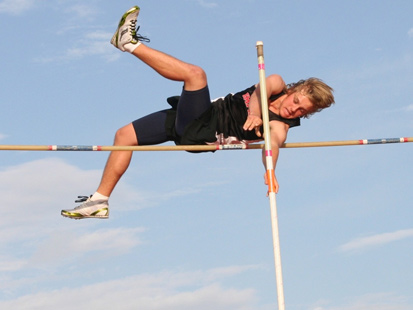 As for the pole vault, the injury rate has been lessened by promoting protective headgear that can be worn at the high school and college level.
"Some of the track injuries have been prevented when they first started looking at pole vaulting injuries," said Mueller.
A major injury that occurs in the track side of track and field is shin splints.
According to John McDonough, athletic director for Boston Latin School in Boston, Mass., shin splints are common in track and field and cross country athletes.
"A lot of younger, inexperienced runners join the team, and many have never run before," McDonough pointed out. "They wear the wrong footwear, don't know to stretch [before running], and just run with all their might," all reasons for the injuries that occur at the high school level.
To prevent such injuries, several trainers note that it's important to stretch, as well as be well-conditioned.
"Core stabilization helps prevent a lot of injuries," stated Dr. Tim Hosea, chairman of the sports medicine committee for the New Jersey State Interscholastic Athletic Association and associate professor at the Robert Wood Johnson Medical School.
However, those who participate in endurance-type sports such as track and field and cross country running are less likely to be injured because many of the athletes are trained to endure long periods of pain in their sport, noted Hosea.
"Those who participate in aerobic-based, lifelong sports -- those athletes tend to stay in shape later in life," Hosea said.
Swimming/Diving
The sports of swimming and diving have their fair share of strains and injuries at the high school level.
According to Jim Clover, coordinator at the S.P.O.R.T. Clinic in Riverside, Calif. And author of "Sports Medicine Essentials," both swimmers and divers primarily endure pain on their shoulders.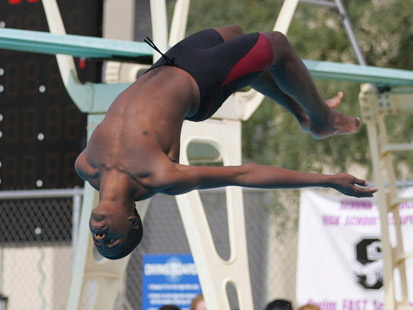 One of the most severe shoulder injuries for swimmers is impingement. This occurs when the small muscle on top of the shoulder underneath the bone -- called the supraspinatus -- is affected.
"When you raise your arms, it gets pinched [which is the result of] impingement syndrome," noted Clover.
Another injury associated with swimming include thoracic outlet syndrome, an injury more common among female swimmers where an entire arm can change color due to lack of circulation to the arm.