The bug got its seemingly-romantic nickname because it is attracted to its victims' faces. At night one's face is generally uncovered and gives off body heat. The insect sucks one's blood through a long proboscis. As it feeds, it defecates -- and spreads the disease.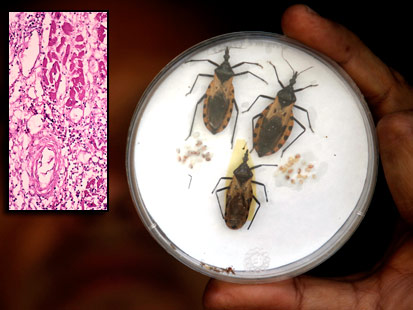 Within the fecal matter of the bug lives an organism known as Trypanosoma cruzi. And if this parasite enters the bloodstream -- perhaps when a sleeping victim wakes up and inadvertently rubs it into the new, itchy wound left by the beetle -- it can lead to Chagas disease, an infection that is both lifelong and life-threatening.
While early symptoms of the illness include nonspecific symptoms such as fever, fatigue, body aches and headache, the chronic phase of the disease can be deadly. At its worst, the disease can lead to heart failure and sudden death.
While most of the 8 to 11 million victims of Chagas live in Mexico and Central America, it is also seen in poor Hispanic households in southern states and along the Mexican border. Exactly how many in the country are infected is a matter of contention; estimates range from a few thousand to up to a million.
Chagas is just one of an array of diseases that disproportionately affect the poor -- and it was one of the diseases highlighted in a recent report titled "Neglected Infections of Poverty in the United States of America."
"The fact that these neglected infections of poverty represent some of the greatest health disparities in the United States, but they remain at the bottom of the public health agenda, is a national disgrace," said Dr. Peter Hotez, author of the analysis and executive director of the Global Network for Neglected Tropical Diseases in a press release.
Reports from the Associated Press contributed to this article.