The gnat had laid an egg in Watson's eye, and after the egg hatched, the parasite began to feed off Watson's retina.
Dr. Hotez says the condition that affected Watson, ocular myiasis, affects a "couple of thousand" Americans a year, particularly in the southern states.
"It's deposited as an egg and then it catches up to you and becomes fairly large," he said. "It's not as rare as you think. Maggots can actually cause tissue damage when they go into an open wound, which is the most common form [of myiasis]," said Hotez.
Kenneth Watson and John Matthews, whose stories were featured as part of TLC's documentary series "Monsters Inside Me," are certainly not alone in their suffering as a result of parasites who ate away at their eyes.
2) Loa Loa Worm
A 25-year-old man in California headed to the emergency room last year with a burning feeling and something squiggling under the white of his eye.
Doctors at the Highland General Hospital Department in Oakland, Calif., immediately started investigating what creature had decided to make its home under the man's skin. They reported on their discovery in the June issue of the Annals of Emergency Medicine and kept his identity anonymous.
Doctors learned he recently returned from a trip to Central and South America. But they realized it was a trip he made to Equatorial Guinea in Central Africa two years earlier on which he got the infection.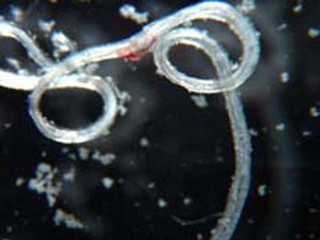 For the previous 18 months, the Loa loa worm or Loaiasis (African eye worm) had been crawling underneath his skin causing itchy lesions in its wake, Dr. Shannon Moffett and Dr. Charlotte Page Wills reported in the journal article.
The man couldn't tell what was causing the itchy blotches until it crawled under the layers of skin in his eyeball.
"It moves at a centimeter an hour. It keeps just migrating through the skin," said Dr. David Freedman, director of the University of Alabama at Birmingham Traveler's Health Clinic.
Freedman explained the Loa loa worm infects only humans, but it relies on flies to jump from host to host. A chrysops fly may bite one person who is infected with Loa loa, pick up the larvae from the bite and then transfer them to the next person it bites.
The larvae grow into worms, procreate and lay more larvae that travel in the person's blood stream.
"It will take a period of six months or more for the larvae to become full size and move around," said Freedman. "Once these worms become adults they live for five or 10 years."
Depending on how severe the Loa loa infestation is, doctors can treat it with a drug called diethylcarbamazine. The drug "is available only from the Centers for Disease Control and Prevention, which released it for 10 cases in 2007," the authors wrote.
3) The Human Bot Fly
Tara Dairman, 30, was confused by a painful itching on her scalp this December after returning from months abroad in Central and South America.
"I thought the bite was really weird when we got home because we were in Indiana and it was cold," said Dairman.
Dairman quickly found she had been infested with not one, but two painful parasites in her scalp. Her run-in with a blood-sucking bug happened in the jungle of Belize, but there are plenty of parasites one can catch in the United States.
"We're pretty sure that they came from the jungle in Belize," Dairman said of the two bot fly larva that embedded themselves in her scalp.