But with the increasing array of condoms on the market with pleasure-enhancing properties -- including twisted and ribbed textures -- some sexual health experts hope that these prophylactics will be able to adopt a more recreational image.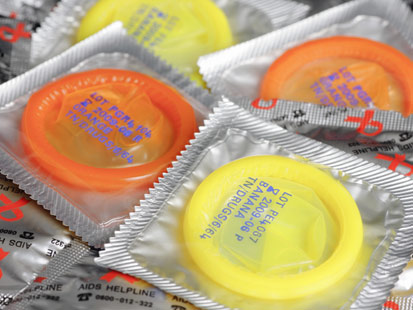 The issue of fun condoms has even worked its way into the scientific literature. In a 2006 issue of the U.K. medical journal Lancet, authors of a "Viewpoint" article said that campaigns promoting condom use should emphasize how they can enhance the "fun factor" of sex.
"Since pursuit of pleasure is one of the main reasons that people have sex, this factor must be addressed when motivating people to use condoms and participate in safer sexual behavior," the authors say in the "Viewpoint."
Could It Help Your Sex Life?
De Villers said that the idea may indeed be catching on with at least some people.
"I have known a few women to say they've actually noticed a difference," she said. "I'd say it's in the different strokes for different folks category. ... If you believe it feels good, maybe it feels good."
The other advantage to pleasure-producing condoms? They tend to be far less expensive and complex than other health-related strategies to boost your sex life.
"Try them, you might like them," De Villers said. "How can they be harmful?"
At the time the Lancet article was published, Suzie Heumann, president of Tantra.com Inc. and author of "The Everything Great Sex Book," said, "Condoms could actually be the new sex toys of the future -- and without batteries -- with design changes, additions, and a new advert campaign."
Vaginal Rejuvenation
To some, it may seem extreme. But some women are willing to go under the knife for so-called "vaginal rejuvenation" -- a variety of surgical procedures designed to either improve the aesthetic appearance of the vagina or improve sensations during sex.
The American College of Obstetricians and Gynecologists has already taken a stance against such procedures; in August 2007, the organization issued a statement urging women to stay away.
Such procedures are not "accepted and routine surgical practices," the opinion reads. "Absence of data supporting the safety and efficacy of these procedures makes their recommendation untenable."
Still, some doctors stand behind the methods as needed surgery for some women whose vaginal structure causes them pain or difficulty during sex.
"I think people should get to make their own decisions about their bodies as long as doctors are making them informed consumers," Dr. John Miklos, director of the Atlanta Urogynecology Associates, Laser Vaginal Rejuvenation Institute of Atlanta Medical Research Institute, said at the time the College of Obstetricians released its statement. "It's a woman's right to say, 'I don't like the way my labia look.'"
Vaginal rejuvenation also refers to such procedures as revirginization, which seeks to create the effect of a restored hymen, and G-spot amplification, in which a filling agent is injected into the front inner wall of the vagina in order to increase sensation.
Could It Help Your Sex Life?
Watter said he is not surprised that vaginal rejuvenation procedures have become popular in certain circles.
"People go for plastic surgery all the time, so it's just a matter of time before the vagina is a part of that," he said. But, he added, "The effect they have on sexual performance is minimal."