Earlier this week, ABCnews.com looked at the top frustrations doctors experience with their patients such as bringing meddlesome family members into the examining room or stopping important medication without telling the doctor.
But there's another side to this coin.
In comment boards for the story, our audience shot back with their gripes about doctors bad habits that were not only irritating, but often led to misdiagnosis, wasted time and wasted money.
Indeed, such concerns have been raised by the medical community as well. Organizations such as the American Academy of Family Physicians do research about where doctors go wrong and how to better improve their care. Over the past 10 years, the term "patient-centered care" not doctor-centered or disease-centered care has gained traction in medical schools and conferences as a way to help doctors be better healers.
"I think students, residents, and physicians are being taught this care more than they ever have before," said Dr. Scott Fields, vice chair of the Department of Family Medicine at Oregon Health and Science University in Portland.
"But the health care system is not really rewarding them for doing it," said Fields. "If we actually listened to people, we would probably do less."
In a health care system that pays for all the tests run and prescriptions written within a 15-minute window allotted for an office visit, Fields said doctors rarely see an economic reward for taking the time to listen to a patient.
But that's just the tip of the iceberg. Read on for some of the most common patient complaints about their doctors.
Doctors Who Think Their Time is Valuable, Not Yours
One of the primary gripes ABCNews.com heard about doctors is the wait.
"I've got a couple complaints as a patient," one commenter wrote. "Showing up on time but then having to wait half-an-hour to be seen. If you need that extra 30 minutes then schedule my appointment 30 minutes later. Also, I hate feeling like I am being rushed in and rushed out. I know that I've been scheduled for a set amount of time... I want to use that time to talk about my concerns and not feel like I'm only being half listened to then being rushed out the door."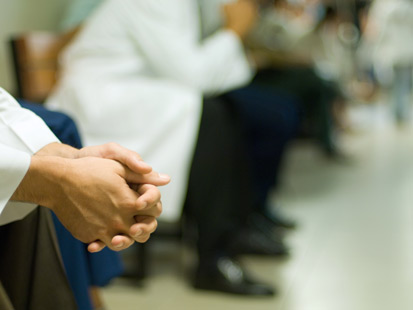 In response to the wait complaint, many doctors say they feel exactly the same way.
"I really don't think that physicians think their time is more valuable than their patients'," said Dr. Jim King, on the board of the American Academy of Family Physicians. "But they're exactly right that doctors are rushed."
King said under the current payment system in the country's health care, most family medicine practices must function at maximum capacity to make a profit.
"The profits are so slim you have to see a quota, but none of us like functioning under a quota," King said.
But while that might explain the rushed office visits, the quota system doesn't explain why people are sometimes left waiting hours for their 15-minute appointment. King said the problem with most family medical practices -- unlike with some specialists -- is that office visits can also be unpredictable.
"In a family medical practice we never know what is on the other side of the door," he said. "You may think an appointment takes 10 minutes, but it actually takes 30 minutes."
Doctors Who Do Not Listen to You
If there's one thing patients can't stand after waiting for hours with old magazines, it's doctors who don't seem to be listening once they finally get in.