L-Arginine changes into nitric oxide in the body and Boyle's mentor at Johns Hopkins University, Dr. Arthur Burnett, was one of the first to discover that nitric oxide was crucial to starting and continuing an erection.
That discovery lead to drugs such as Viagra, but Boyle warned eating extra L-Arginine does not translate to a natural erection, nor does it mimic FDA approve drugs.
"I don't think simply taking L-Arginine is going to change anything [but] Viagra, Cialias and Levitra do," she said.
OLD: Ginseng and Other Ancient Recommendations
Ginseng made an international comeback in the 90s as a natural cure-all, including something to help libido.
But although ginseng might have the most science behind it compared to other traditional aphrodisiacs, experts say even that science is weak.
"In animals, it was demonstrated that it does improve sexual response. Is there any evidence that it's going to have an effect in humans? Probably not," said Boyle.
"There's a very strong placebo effect to these therapies, to interventions," said Goldstein, who guessed that the placebo effect may explain some of the "natural" pills' popularity.
NEW and OLD: Yoga for the Libido?
Although Yoga was developed as one part of a larger spiritual life, since it's adoption in the West, nowadays, there's yoga for dogs, yoga for burning fat and, some claim, yoga for lovers.
For yoga's physical aspects, Boyle said she could see it making sex life interesting, but not necessarily important enough to overcome sexual dysfunctions.
"It might make positions more interesting, but not as an aphrodisiac. It may enhance sex if you can be more creative," said Boyle.
But sexual health experts also point out that there is a large psychological component to sex. Here, some think yoga may be especially beneficial for some people.
"Yoga is wonderful," said Goldstein. "We have lots of data on Yoga and effective therapies."
Goldstein said the "mindfulness promoted by yoga" can put people in the right mood in the bedroom and help keep out the worries of the world. He also pointed out that the brain controls neurochemicals involved in sex.
"It's another word for getting rid of multitasking and focusing and allowing you to be relaxed while focusing," he said.
NEW: K-Y Yours and Mine Lubricant
K-Y Brands products have gone from the least sexy -- originally sold as a "surgical lubricant" -- to marketing itself today specifically for sex , with the launch of the K-Y "Yours and Mine" lubricant.
Just like deodorant, now K-Y and other lubricants are marketed separately for men and women.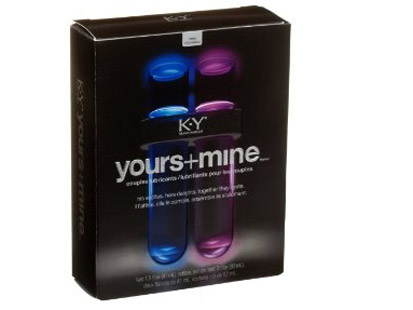 "I've heard mixed reviews on it… the lubricant for men is supposed to give a cooling effect to men, and for women, it's supposed to be a warming effect," said Boyle. "But some women have found it very irritating, especially the next day."
K-Y responded to the sensitivity problems in a prepared statement: "Using Yours and Mine is a very unique and personal experience, as different couples feel different sensations depending on the individuals, how sensitive they are and how much product is used," wrote Johnson & Johnson spokeswoman Teresa Panas.
Goldstein appreciated the fact the company tested its product and is not another snake oil.
"If you put it on a woman, there is a sense of more blood flow to the region and some sense of improved arousal," said Goldstein. "At least it has some data and it has some basis for it."