In July 2012, the family learned that the hospital had found a perfect "10/10 match," which means Maddie's and Personette's human leukocyte antigen or HLA typings were the same, ensuring the best chance of success.
"We didn't know anything except the donor was a 19-year-old female," said Weimer.
In preparation for the transplant, Maddie had eight "vigorous" days of chemotherapy, according to Weimer. By October, her immune system was suppressed enough so her body would not reject Personette's bone marrow.
"We worked very closely with the other center in Seattle for her transplant," said Dr. Roberta H. Adams, director of the transplant program at Phoenix Children's in association with the Mayo Clinic of Arizona.
The transplant was quick and simple, and involved an IV infusion of Personette's bone marrow cells into Maddie's vein.
"They go into the blood and migrate into the bone marrow and set up shop," Adams said.
Despite the near-perfect match, Maddie developed graft-versus-host disease, a complication in which the donor cells attack the recipient's body.
"It looked like she had third degree burns from head to toe and fevers over 105 degrees for three days," said Weimer.
"Once she was stable and over the first portion of the transplant, we continued care," Adams said. "She had a few complications with ongoing immune suppression, but now, 19 to 20 months out, we have managed them."
Adams said that Maddie's MDS was caused by a genetic deletion on her number 7 chromosome. Because the disorder was genetic in origin, the Weimers said they were worried about having more children. But doctors reassured them the mutation was not hereditary.
"It's a pretty common finding in MDS and one of the flags we look for to help confirm the diagnosis," said Adams. "We suspect it causes the disease. I wouldn't say this family is at increased risk in having another child. It happened in her blood stem cells, not the stem cells in her whole body."
Adams said Maddie's prognosis is "excellent."
"She is not completely out of the woods, but she has done very well and we are optimistic about her chances," she said. "It's wonderful to see her grow up and be am almost 4-year-old girl."
By August 2013, the toddler was beginning to "make a turn for the better," said her mother. "She started to act more like a fun-going toddler and finally put on weight."
As for Personette, her part of the transplant also went smoothly. Be the Match paid for her flight to Georgetown University Hospital in Washington, D.C. She was put under anesthesia, two six-inch needles were inserted in her lower backbone and the marrow was removed and sent off to Maddie in Seattle.
"I didn't feel it at all, because I was under," she said. "When I woke up I was really sore for a month."
Personette said she carried a stuffed lamb along every step of the medical journey, taking photos and creating an album she gave to Maddie, so she could feel a part of the process.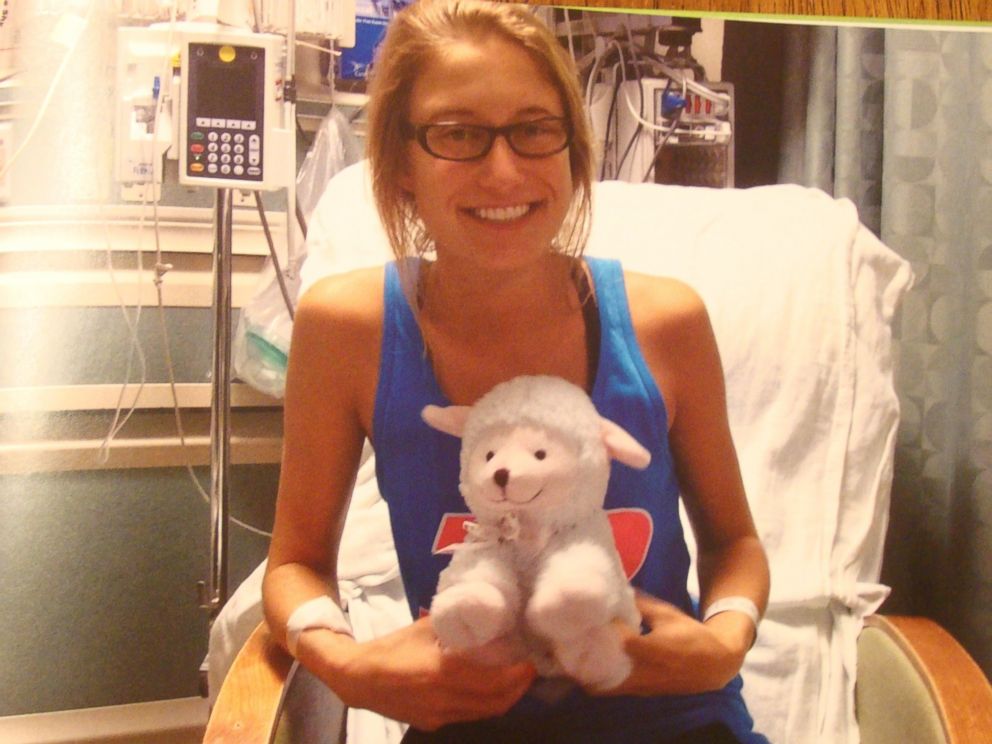 Maddie's doctor said she was impressed with the generosity of Personette, who is now a college senior studying nutrition.
"I have been surprised by the number of young people signing up as donors," said Adams. "There has been a real change over the last five years. That may be because there has been a better educational approach at college campuses where younger people congregate. It's an age when young people are very altruistic and want to participate and know about it."
"It doesn't cost the donor and there are no long-term complications -- it's just a minor inconvenience," Adams added. "And it gives you the life-long feeling that you've saved someone's life. Few of us can say that."