He was hiding in plain sight. Europe's most wanted man, Radovan Karadzic, former President of the Serbian Republic and the alleged mastermind of the continent's worst slaughter since World War II, was living a "normal life" under a false identity in Belgrade, the capital, when he was arrested, officials revealed today.
Karadzic, 63, who was arrested Monday night after more than 10 years on the run, grew a long white beard and was working at an alternative medicine facility in southern Belgrade. He was using the name Dragan Dabic, authorities said.
"He was working in a private practice and the last place where he had residence was New Belgrade," Rasim Ljajic, a government official, told reporters at a press conference today in Belgrade.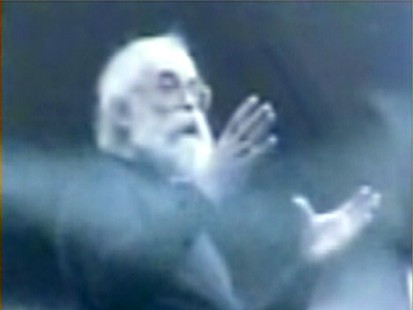 A photo of Karadzic released today showed him in disguise, with a thick white beard, a wild head of hair and oversized glasses.
"His false identity was very convincing," war crimes prosecutor Vladimir Vukcevic said.
"Even his landlords were unaware of his identity."
War crimes prosecutor Vladimir Vukcevic said a judge has ordered his transfer to the U.N. war crimes court in The Hague, Netherlands, to face genocide charges.
Karadzic has three days to appeal the ruling. His lawyer, Sveta Vujacic, said Karadzic would fight extradition.
Accused of masterminding the deadly siege of Sarajevo and the 1995 massacre of up to 8,000 Muslims in the Bosnian enclave of Srebrenica, Karadzic has topped the tribunal's most-wanted list for more than a decade.
His whereabouts had been a mystery, with his hideouts reportedly including monasteries and mountain caves in remote eastern Bosnia.
Serbian security services found Karadzic while looking for another top war crimes suspect, Gen. Ratko Mladic, Ljajic said.
"He was arrested Monday evening near Belgrade while changing locations," he said.
Karadzic's lawyer, however, claims that he was apprehended on Friday morning and held illegally for three days.
"By the law he should have been taken to the judge immediately, so no one knows who arrested him, who ordered that, and who kept him for three days until he was brought here tonight," said Vujacic, speaking outside the courthouse in Belgrade last night.
He added that his client is not talking and not eating.
The Associated Press contributed to this report.