With more than 130 people killed in two deadly fires last week, Kenyans began this week in mourning.
The government called for five days of official mourning, after an overturned oil tanker truck exploded Saturday, killing at least 115 people and injuring nearly 200.
On Wednesday, a blaze at a supermarket in Nairobi killed close to 30 people.
Flags throughout the country were lowered to half-staff and official functions were put on hold until next week.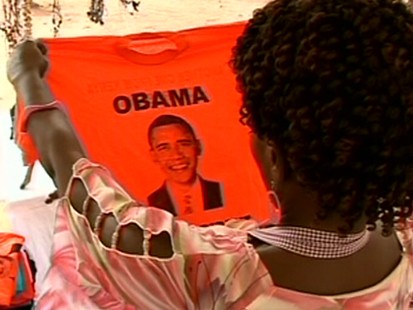 Kenyan President Mwai Kibaki and his delegation, which is currently in Ethiopia attending the African Union Summit, are scheduled to return early because of the tragedies. African leaders expressed their condolences, along with U.N. Secretary-General Ban Ki-moon who reportedly said during the summit's opening session, "My heart is with the people of Kenya at this trying time."
The oil tanker accident occurred in Molo, a rural area of Kenya about 150 miles west of Nairobi. Witnesses say that hundreds of people were caught in the blaze that broke out after the crowd rushed to the overturned truck, many scrambling to scoop up free oil as others watched the scene.
The cause of the fire is still under investigation, but officials say it was likely due to a cigarette in the crowd.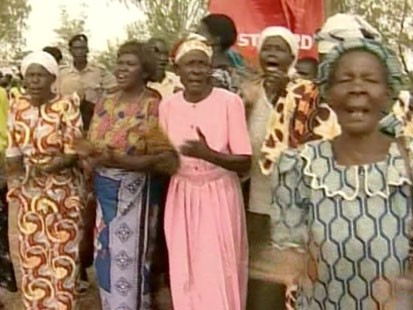 According to The Associated Press, area hospitals were so overwhelmed that the government sent extra body bags and medical supplies in by helicopter. Many of the injured were women and children and the death toll is expected to rise.
"Several bodies were charred beyond recognition," Titus Mung'ou, spokesman for the Kenya Red Cross, told ABC News. "There have been 98 cases of missing persons registered with the Red Cross in Molo."
The Molo blaze is one of the worst fire accidents in Kenya's history.
Wednesday's supermarket fire in Nairobi killed nearly 30. Rescue workers were still recovering bodies Monday and the Red Cross plans to begin DNA testing this week, hoping to match unrecognizable victims with people who have been reported missing.
Kenyan government officials expressed shock Sunday over the loss of so many lives in such a short time.
"Let us be in prayer, let us console and let us ask for divine providence, intervention so that our country does not witness this kind of disaster again," Kenyan Prime Minister Raila Odinga told reporters Sunday in Molo.
But behind the sadness Kenyans are questioning the government's emergency preparedness. Witnesses to the supermarket fire said that it took more than an hour for firetrucks to arrive to the store, which was centrally located in downtown Nairobi, and that the trucks were poorly equipped.
In Molo, more than an hour away from the nearest fire station in the province capital of Nakuru, victims were lying on the floors of nearby hospitals because there were not enough beds. Witnesses said that transporting the most severely injured to hospitals in Nakuru and Nairobi was also delayed.
Kenyan politicians did not arrive until the next afternoon, causing the editorial of the local Daily Nation newspaper to declare that "watching top government officials making frantic efforts to get the injured to hospitals in Nakuru and Molo was a study in logistical deficiencies." The editorial pointed out that "ambulances and firefighting equipment were inadequate."
People in the streets of Nairobi talked Monday about how sad the tragedy is, but also about how angry they are at the Kenyan government.
"The problem we have is that we only want to act on things after they happen, but we do not want to act to perfect [services]," said Arnold Onduso, a businessman from Nairobi. "The government should take it up themselves to follow up the rules and precautions effectively."
The fire tragedies are just the latest controversies to face the Kenyan government in the last few months. Corruption charges, a food crisis and a controversial media bill have all caused public outrage.