Facebook is great if you want to find long-lost classmates. But what if you're a refugee looking for family members? A new Web site seeks to provide those displaced by war or disaster with a platform to search themselves -- provided they have Internet access.
Facebook addicts will, of course, tell you that the social networking site is full of ways to stay connected. You can poke. You can chat. You can write on your friends' walls. You can play Scrabble.
More to the point, though, you also have a decent chance of finding that cute girl who sat next to you in the fifth grade -- the one you haven't seen in 15 years. That, at least, was the function that caught the imaginations of Danish brothers Christopher and David Mikkelsen. Years ago, the two realized that a social networking platform might be a great tool refugees could use to help them find their families. Now, just a few months after the launch of www.refunite.org, the site has made great strides toward becoming the go-to search engine for displaced people around the world.
"It's really just another search engine," Christopher Mikkelsen, 30, told SPIEGEL ONLINE. "But the fact that it is specifically intended to help refugees find their families makes it a beacon. It is about helping the refugees and helping those people trying to help refugees."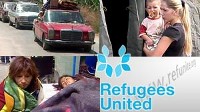 ABC News Photo Illustration
The idea is actually a very simple one. Each year, millions of people are uprooted by war, famine or natural disaster. Escaping catastrophe, though, is not always an orderly process. Families can easily get separated and, once the displaced cross borders, often get sent to widely dispersed destinations. The United Nations High Commissioner for Refugees (UNHCR) estimates that there are over 1.5 million minors who have lost contact with their parents.
Searching for Lost Family
There are, of course, many different initiatives out there aimed at reuniting divided refugee families. In Germany alone, the Red Cross receives thousands of requests for help each year from refugees or immigrants looking for family members they have lost contact with due to armed conflict or disaster.
"There simply isn't any other organization that works in conflict zones around the world," Dorota Dziwoki, who leads the search service for the German Red Cross, told SPIEGEL ONLINE.
The Red Cross system, though -- as efficient as it may be -- requires refugees to apply for help from a third party. Requests are sent first to Red Cross headquarters in Geneva from where they are then sent to personnel working in the conflict zone in question. Should Refugees United, as the Mikkelsens call their organization, attract enough members, it could provide the displaced with a new way to search -- one that they control themselves.
"We didn't want to be the kind of NGO that is a third party providing help to refugees," said David Mikkelsen, 34. "We wanted to give them the opportunity to take control of their situations and help themselves -- and give NGOs another tool to help."