It is now a scene all too familiar to British television viewers.
A bell tolls in the small town of Wootton Bassett, southwest of London. Over the brow of a hill, the top hat of an undertaker slowly appears. He heads a solemn procession. Behind him are hearses carrying the bodies of two British soldiers.
Rifleman Philip Allen and Rifleman Samuel John Bassett were both killed in Helmand province, Afghanistan, earlier this month.
Their coffins pass through the town. The shops are closed. The main street is lined with family, friends and townspeople who, with heads bowed, pay a silent tribute to the fallen soldiers.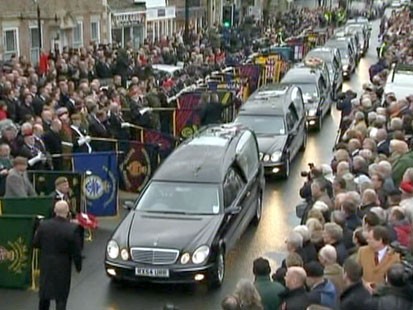 These unofficial ceremonies began two years ago when the route of the cortege was changed, previously it did not pass through any town. A British army veteran, who happened to be on the main street at the time, gave a spontaneous salute as he watched coffins go by. Passersby joined him.
Soon word spread. People from all over Britain, anxious to pay their respects to those who had died in combat, began coming to Wootton Bassett.
At times, thousands have flanked the main street in this unique show of support for British troops. It is in sharp contrast to the ceremony -- closed to the public -- given to U.S. service men and women when they return to Dover Air Force Base in Delaware.
Until February this year, when President Obama lifted the 18-year ban, the media were not allowed to cover the return home of the American war dead. In 1991, during the buildup to the first Gulf War, Dick Cheney, then the secretary of defense, started a blanket ban on coverage. Now, press access to the ceremonies is left to the discretion of the families.
Hours before the latest repatriation ceremony in Wootton Bassett, the talk in a cafe revolved around the war.
"Says here another one was killed yesterday," a customer said, putting down her newspaper with a sigh.
"Another one?" said the cafe's owner, Brenda New. "Oh, God."
Perhaps nowhere else in the United Kingdom is the toll of the Afghan war felt more strongly than in Wootton Bassett. The reality of the British war effort is, literally, driven home here – and down the main street – on almost a weekly basis.
"I shook from head to toe, my stomach was in my mouth, the tears rolled down my face," New said, recalling the first time she saw the cortege.
Reverent Silence Salutes the Dead
Britain's war dead used to be flown to an air force base, RAF Brize Norton, and did not pass through Wootton Bassett, or any other town, before they were seen by the coroner in Oxford and then handed over to the families.
But since April 2007, the bodies of British service men and women killed in Afghanistan have been flown into RAF Lyneham, and the road from this air force base to Oxford goes directly through Wootton Bassett.
Each time the dead come through, their sacrifice is saluted with a reverent silence.
"It's very depressing, but then again, we like to do it for the troops that are over there," said New, who closes her café and joins the mourners every time.
The locals are very protective of this originally-impromptu display of solidarity.
Guarding the solemnity of the event, they can be resentful of media and tourists "who have just come to see what's going on," New said. "It doesn't look so respectful."
Like many who live in this part of England, which is dotted with military bases, New is fiercely supportive of the troops but increasingly skeptical of the war in Afghanistan.
"I think they should all be home because it's not our war," said Tina Britten, who came from a nearby town to watch the procession.
She was in Wootton Bassett with her son, Daniel, who had just signed up for the army and could soon be fighting in Afghanistan.
"One man fallen is one man too many. How many more have got to give their lives?" Britten asked, her son sitting beside her on the bench.
Since 2001, 235 British soldiers have died in Afghanistan, 98 of them this year.
"It makes me feel so sad, it breaks my heart," said Wyn Howard, a longtime resident of Wootton Bassett who served in World War II.
"Why are people losing their lives? It seems so pointless."
A recent British newspaper poll showed 71 percent of those questioned were in favor of British troops withdrawing from Afghanistan.
This week, both the British prime minister and foreign minister have discussed the possibility of a timetable for withdrawal.
"If at all possible, we should set a timetable for transferring districts to Afghan control starting next year," Prime Minister Gordon Brown said in a major foreign policy speech Monday.
Awaiting the President's Decision
On Tuesday, David Miliband, Britain's secretary of state for foreign and commonwealth affairs, tried to reassure the public. "I, as much as anyone else, want to bring our troops back home to safety," he said at a NATO meeting in Scotland.
"This is not a war without end," he added, "but success must be based on aligning our military and civilian resources behind a clear political strategy."
Miliband, along with the other NATO leaders, awaits Obama's lead. The president has yet to agree to a troop increase asked for months ago by his commander for Afghanistan, Gen. Stanley McChrystal, and has been accused of "dithering" by his opponents.
During his recent trip to China he told reporters Wednesday that he would announce his decision "in the next several weeks."
Whatever strategy Obama decides upon, many Britons will measure its success by the number of processions coming through Wootton Bassett.
"I hope it will be worth it," said a recent army recruit facing deployment to Afghanistan. "I hope it'll be a safer place and make this a safer place as well."