When artist Hilary Knight first collaborated with actress and vocal coach Kay Thompson to illustrate her story about a precocious 6-year-old who lived at The Plaza, he never dreamed that 60 years later he would still be drawing a fictional little girl named Eloise.
"I don't think anybody who does anything thinks it's going to last, you know? You just move on to the next thing," said the artist over afternoon tea inside The Plaza's Palm Court.
On Monday, the mischievous storybook resident of The Plaza celebrated her sixth birthday for the 58th time. To commemorate the occasion, Knight announced that he and the hotel will be releasing a limited series of six Eloise prints themed to different holidays. Each series will include 100 prints, available for $250 each. Those who treat themselves to all six will receive a signed seventh print with a custom inscription.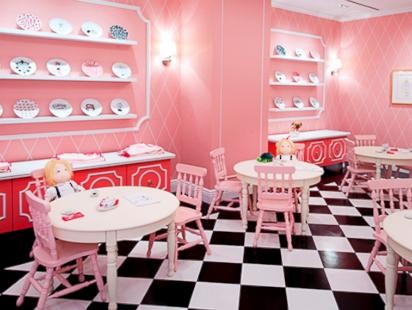 When asked what it is about the witty, wily character of Eloise that has made her such an enduring character, Knight, 87, was cheeky in his response.
"I think that she was something that everybody would like to be and maybe could not: her stunning beauty, her figure, her hair," he deadpanned, referring to a character who is known for combing her locks with a fork, throwing tantrums, and putting cabbage leaves on her head to cure headaches.
Actress and composer Kay Thompson was living at The Plaza when she created the character of Eloise, a 6-year-old who spends most of her time making mischief inside the hotel, joined by her pet turtle Skipperdee, her dog Weenie, and her British nanny.
The character was allegedly inspired, in part, by Thompson's goddaughter Liza Minnelli and by her own personality. After collaborating with Knight to give life to the idea inside of her head, their first book, "Eloise," was released in 1955.
"I wish Kay were here to still do it, because she was the instigator of the whole idea," Knight told ABC News. "Because it was so much a part of both of us."
The artist did not reference a rift that took place between the two, when Thompson pulled three Eloise sequels from print, as well as a nearly completed manuscript for "Eloise Takes a Bawth," in the mid-1960s. The book was finally published in 2002, four years after Thompson's death. Knight only spoke of the future.
"We're going to keep on with it," said Knight. "It's not going to disappear. You'll be seeing Eloise for a long, long time."
Knight, who in addition to Eloise has also illustrated for various magazines, books and Broadway musical posters, said there is no shortage of inspiration when it comes to the impish icon.
"With Eloise, it's very easy," he said. "The nerve ends go right through the fingers to the pen. It's fun to try to think of a situation, what Weenie will be doing or Skipperdee. And I love doing it, which is the most important thing."
He would not reveal any details of the forthcoming prints.
"You're going to have to wait and see," he said. "I haven't done them yet. They're up in the brain and the fingers are getting ready."
After nearly six decades, Knight told ABC News that he considers Eloise's continued following to be its own reward.
"Over the years, thousands upon thousands of people have told me virtually the same thing, and that is that it moved them," he said. "That in itself is extraordinary, how much it was part of their life, you know?"
Also extraordinary are the particular impressions Eloise has left on some of her fans.
"I get sent pictures of tattoos and, also, at book signings they are revealed to me--sometimes in the most interesting spots that one usually doesn't see on a fan," said Knight. "I wouldn't do it myself. One of the great mysteries to me is tattoos. Period. But I'm flattered that anyone would want to go through the agony. They must really love her."